> Complete Communities
Complete Communities
Complete Communities is about improving neighborhoods so that all of Houston's residents and business owners can have access to quality services and amenities. It's about working closely with the residents of communities that haven't reached their full potential, understanding their strengths and opportunities, and collaborating with partners across the city to strengthen them. While working to improve these communities, we must also work to ensure existing residents can stay in homes that remain affordable.
Phase 2 Communities Announced!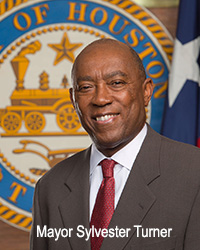 On Thursday, June 20, 2019, Mayor Turner announced that five new neighborhoods are added to the Complete Communities initiative! These are Alief, Kashmere Gardens, Fort Bend Houston, Magnolia Park - Manchester, and Sunnyside. The City will work in a concentrated manner with stakeholders in each area and partners across Houston to create more complete neighborhoods with enhanced access to quality affordable homes, jobs, well-maintained parks and greenspace, improved streets and sidewalks, grocery stores and other retail, good schools and transit options. The work in these neighborhoods will help develop solutions that are transferable to other communities in Houston creating One Complete City.
The first step is to begin public engagement process to guide community residents, business owners, non-profits, faith-based organizations, schools and others to develop an Action Plan identifying gaps and opportunities in each area. City departments and outside partners will then work together to implement strategies identified in the Action Plan that will lead each area to transformational change.
Click the images below to learn more about:
Alief is a large ethnically diverse community on Houston's far southwest side of Beltway 8.
Fort Bend Houston Super Neighborhood is located far South, Southwest Houston and is generally located between the South Sam Houston Tollway/Beltway 8 and McHard Road, and between Hiram Clark Rd Fondren.
Kashmere Gardens
Kashmere Gardens is a historically African-American neighborhood in the northern 610 loop area in Houston, Texas. The area is by Loop 610 (N. Loop E.)/Kelley Street to the north, Collingsworth and Liberty to the south, a rail corridor to the west, and another rail corridor to the east.
The 10 Complete Communities
Each of the 10 Complete Communities are diverse neighborhoods with various conditions and individual challenges. No two communities are the same. Common elements between them are that they are all historically under-resourced, each has a base level of community involvement and support, they have diverse populations, and each has its own unique look and feel.
To learn more about each of the Complete Communities, contacts, dedicated staff and planning process, visit each site linked below.
Program Structure and Timing
Each of these Complete Communities neighborhoods has unique needs and their own goals that they would like to achieve. So, the City engages residents in each neighborhood to understand their vision and partner with the local community to support their efforts to achieve their goals. If planning efforts are already underway or completed, the City will look for ways to help implement those plans. Some areas have already had the benefit of significant neighborhood planning efforts, often by non-profit community development partners. For those communities where planning efforts are already underway or completed, the City will look for ways to support implementation of those plans. For areas without previous neighborhood planning efforts, the City will conduct a 6 to 9-month community engagement process to help local residents and businesses identify improvements to strengthen these communities. After completing these plans, The City will ask the local community and other organizations to be our partner in turning the plans into reality.
The timeline in each of the Phase 2 communities for each step is outlined below. For details by neighborhood, visit the community's page.
Complete Communities Advisory Committee
An advisory committee serve as a sounding board, ambassadors for the effort, and links to residents and businesses in the selected neighborhoods. The committee is comprised of 26 community leaders and advocates that have a balanced perspective ranging from city-wide to neighborhood specific involvement. Click to view the list of Complete Communities Advisory Committee members.
Complete Communities Advisory Committee (.pdf)
Videos
Quality of Life Committee on June 28, 2017
View here
Press Conference: "Complete Communities Intiative"
View here