>
Mayor's Assistance Office
> City Hall Tours
Citizens Assistance Office
City Hall Tours

Contact: Anna Pena
City Hall Annex
900 Bagby / Public Level
Houston, TX 77002
Phone: 832.393.0955
Tours are available on weekdays and are offered free of charge. To make a reservation, please fill out this online form below or call Anna Pena at 832.393.0955.
City Hall Tours take place on selected Wednesday mornings from 9:30 to 11:30 a.m. (see "Date of 2020 Tour" in the form below). For any other special accommodations on times and dates, please contact anna.pena@houstontx.gov.
Tours for groups and individuals close at 12:00 PM noon two (2) weeks prior to the tour date and must meet a minimum enrollment. Additionally, special request such as an interpreter should be made in advance, preferably during time of the request.
City Hall Tours are offered for groups of 5-25 people. The suggested appropriate age for this tour is 9 years old and up. This tour is approximately 1 and a half hours long and is walking intensive.
Additionally, special requests such as an interpreter should also be made in advance preferably during the time of request.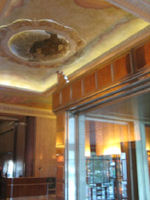 City Hall Tour Agenda
1. City Hall Rotunda and Reflection Pool (Weather Permitting), 15 to 20 minutes

The City Hall tour begins with a lecture style journey of this 1938 commissioned art deco building designed by the renowned Austrian born architect Joseph Finger. The architecture of this building is indicative of the southwestern United States municipal buildings during this time period and the adjoining reflection pool serves as a civic center as well as complements the simplicity of this classic architecture.

2. Council Chambers (City Hall 2nd Floor), 15 minutes

Have the delight of being able to sit in the Council Chairs which represent the voices of approximately 2.2 million citizens of the City of Houston. (Time will be allotted for pictures at this time, provided the use of one's own camera.)  Q & A session will be allotted at this time.

3. Council Offices (City Hall Annex), 20 minutes

During this stretch of the tour a brief use of the city's tunnel system will be used to visit the Council Offices, where a walkthrough of the Council Offices will occur. At this time, you will be given a behind the scenes look of your city government at work. To find out more about the Houston tunnel system please visit, https://www.houstontx.gov/abouthouston/tunnelsystem.html.
Please indicate below which tour you are interested in and how many reservations you would like to make. With the exception of school group students, please indicate the names of all the attendees. Please make sure to include relevant contact information in the event of a late change or cancellation, i.e., local hotel or cell phone. Your reservation request will be confirmed via email and make take up to 48 hours to acknowledge.
Group size: Please note that the City of Houston is not able to accommodate groups large than 5 to 25 people at this time. Morning tours are 9:30 to 11:30 a.m., and afternoon tours are 1:30 to 5:00 p.m.
PLEASE SUBMIT TWO WEEKS IN ADVANCE