>
Mayor's Office
> 2017 State of the City Speech
Mayor's Office
2017 State of the City Speech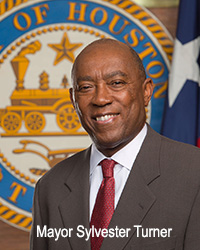 This is the mayor's speech as written.
There may have been slight deviations in delivery.
May 4, 2017 -- I want to start off by thanking Coach Applewhite. UofH is already a winner. Can't wait for this exciting season, I know the Coogs are going to do extremely well. But give it up to the Coogs, give it up to Coach Applewhite. I look forward to being there when UofH plays its first game. So, expecting great things. I am here also with my daughter, Ashley Paige Turner. She is here today. I want to thank her for what she has been doing for the city. She has a passion and reminds me to remember the millennials in the city of Houston. So, I got that. To Judge Ed Emmett, let me thank you again. To all of the consular corps, to the members of city council, all of them that are here and those that are not here, to all of the elected officials of whatever level federal, state, local level, county level, let me acknowledge all of you. To the Greater Houston Partnership, Bob, thank you so very, very much. And I am going to say a little bit more later on about, Mark. Let me thank you all for being present here today. I am proud to be the Mayor of the City of Houston. It's a great city. As we say, it is the most diverse city in the United States. People come from all over the world, different ethnicities, people practice different faiths, you can marry who you want to marry in this city. Orientation simply doesn't make a difference neither should it make a difference in our city. There are 142 plus languages in our city. One in four Houstonians in foreign born. This is a great and diverse city and I am proud to be in this city. At the same time, we are sitting with so much diversity; we don't want anyone to feel as though they are under siege or anyone to feel as though they should be threaten if they are in a car and their driving, if they haven't committed any crime. We don't want that to happen. We don't want our kids to be going to school concerned whether not their parents are going to be there when they come home. We don't do that.
We are a very welcoming city and we embrace Houstonians for who they are and where they come from and as I said on so many occasions, I am the mayor of every Houstonian within the 640 square miles, regardless of where you come from, what your religion, what your orientation, it matters not, we are a welcoming city and it's my desire we will always be a welcoming city. I do think we have to be very careful of what we do, either on the federal level or the state level or the local level.
It has been an incredible 16 months for Houston and for my administration. Final Four, Olympic champions, Super Bowl, selected for 2020 World Energy Congress …..
Summer Jobs – A total of 5,000, representing a 4,500 increase over last year.
Houston is now Ranked the #1 City in the US for Minority Owned Businesses. – It just doesn't get any better than that.
Flooding…I want to thank Steve Costello
The flooding czar, the chief resilience officer for working on our drainage and flooding and continues to be and will always be a major, major priority. He has done some work with the Texas Water Development Board, we are working with the county, working with our congressional partners to address drainage and flooding in a very real way and that is a collective effort. So I appreciate that.
I certainly want to thank Public Works for improving our streets. A year ago, I talked about potholes. I want you to know that a year later, they are still assessing and addressing those by the next business day, 96 percent of the time and now giving us time to work on the most serious street problems so I want to thank all of our city employees for simply doing an outstanding job.
A year ago, I stood before you and pledged to bring to Austin a plan that would:
Reduce the City's pension liability; and
Reduce the City's annual costs on an immediate and long-term basis.
One year later, I'm proud to say the Houston pension solution is before the legislature. And thanks go to Houston City Council, our employee pension systems, and the Greater Houston Partnership. I also want to thank the 50 CEOs who expressed their support in a letter to our state senators this week. And I want to thank some great staff members, including Kelly Dowe, Ron Lewis and Bill Kelly, and members of their teams who have been instrumental in helping to create a plan that serves Houston's needs well.
The Texas Senate passed the Houston Pension Solution earlier this week by a vote of 25 to 5, with bipartisan support. Thanks go to Lieutenant Governor Patrick and Senator Huffman for their help.
The House will vote this Saturday. I feel very confident about our chances there. But as a former Legislator, I'm taking nothing for granted, and neither should you. Please call your Texas House members and ask them to vote for the Houston Pension Solution and to stick with Chairman Flynn as he manages the bill on the floor Saturday.
We are so close, so near to finally putting our City's pensions on a sustainable path that taxpayers can afford and employees can count on. 
Houston's Pension Solution pays down our existing unfunded liability in 30 years. It controls costs and shares risk using what we call the corridor – a mechanism that requires pension changes if City costs rise too high, ensuring we never again face a situation where the taxpayers' contribution spirals past sustainability.
Reducing debt, not just future benefits, is the key to an affordable financial future for Houston, and our plan tackles it head-on by reducing our unfunded liability by a third immediately, $2.8 billion.
What we have accomplished in Houston shows that even the most intractable problems can be resolved when you offer innovative solutions, when you work in good faith with stakeholders, and when all parties are willing to engage in shared sacrifice. It's not perfect, but it is a very good plan.
Three years ago, oil was 100 dollars per barrel. And then a year ago it was down to near 45 dollars. The energy slowdown put a spotlight on our weak foundation, and things got more challenging when the revenue cap kicked in. Since the cap's impact was first felt in 2014, we estimate that the City has foregone more than 221 million dollars in lost revenue.
Our most recent audit showed that our liabilities threaten to outweigh our assets. We've seen two credit downgrades in the past two years, and the agencies that rate our credit say they're concerned about three primary things:
Pensions, which are a major contributor to what the rating agencies call "high fixed costs;"
The revenue cap, which offset what the rating agencies call "the potential effects of positive assessed valuation trends;" and
A weak economy, with sales tax collections still soft as the energy sector works to recover.
Our mission is clear: we must achieve sustainable, structural budget balance by making sure that our recurring income is equal to or more than our recurring expenses and that our expenses is based on our priorities. And we must do so while eliminating our City's pension liability and making proper investments in our services and infrastructure. That's why we're moving forward with a long-range financial plan to chart a path to structural budget balance.
A year ago, with the help of each member of city council, we closed a 160-million-dollar gap with a budget that included about $55 million worth of recurring improvements and received unanimous Council support. I want to thank each member of city council for working with me to make that happen.
The 2018 fiscal year marks another set of hurdles. We face increases in our debt payments that consume much of the savings we achieved last year. We still must cover compensation increases covered in employment contracts previously negotiated. Our sales tax revenue stream is still sluggish. In light of all this, we have to cover a deficit of close to $122 million, but we will deliver a proposed balanced budget to City Council next week that incorporates structural improvements, and moves us toward our goal of sustainable, structural budget balance with minimal employee layoffs.
Our new budget will include four new classes of police cadets, and I am working for a fifth class. We will maintain our reserves well above the 7.5-percent minimum set in our financial policies – at least 9.3 percent. We will maintain at least $20 million in our budget Stabilization Fund.  And we will await recommendations from our long-range financial plan, seizing opportunities to make resources available for key needs like maintaining our infrastructure, investing in programs that prevent problems instead of addressing problems, and making sure our city can accommodate the growth we've already seen, along with new growth for the future.
When I made my promises on pension reform last year, I made another commitment to you as well: That if we achieved meaningful, lasting pension reform, I would ask Houston's voters to take a second look at the revenue cap, which the credit rating agencies have criticized.
The revenue cap hurts Houston. And that's not just me saying that. Every analysis of the City's credit now cites the revenue cap as a negative, a limiting factor that makes us more risky, not less. Repealing the revenue cap means a better credit rating for Houston, and lower costs for taxpayers when we finance improvements to the City buildings, parks and libraries that serve our neighborhoods.  (Aging Fleet, Bad streets, illegal dumping, deferred maintenance.)
When we made a slight cut in the property tax rate to comply with the revenue cap for FY17, the owner of the average Houston homestead saved a little more than 31 dollars in property taxes for the whole year. That's about two dollars and fifty cents a month. But we estimate the City lost 28-point-4 million dollars in revenue. That would have paid for a whole year of salaries, special pay and benefits for 250 police officers. Or some of it could have increased our contribution to ReBuild Houston to accelerate our street and drainage improvements. Or some of it could have gone to address the 600 million dollars of deferred maintenance on our City facilities. Bottom line is this: People are calling 311, asking us to do something about illegal dumping and bad streets, hazardous materials inspections, crime, and people living in tents under our bridges or close to neighborhoods or businesses.
Let me underscore Homelessness.  We must do more….
Homelessness is a humanitarian issue right in our own backyard.  It affects all Houstonians, no matter your neighborhood, no matter your income.
That is why I recently announced a comprehensive, 6-point holistic plan to further respond to homelessness and street issues.  A Plan that will expand efforts to permanently house the homeless; increase shelter options; implements common sense, public safety policies; and launches a public awareness campaign.  Permanently housing the homeless with the supportive service they need is at the center of this Plan.
Transformational, nationally recognized work is being done through The Way Home – our comprehensive, collaborative, homeless housing initiative.  Over 100 public and private partners are not just responding to homelessness, but solving it. 
Since taking office, we have worked hard to permanently house over 1,120 homeless veterans.
We have found the solution to homelessness is housing and employment, along with mental health and substance abuse services, but our efforts are currently being hampered.  With Congress's extension of the continuing resolution halting the issuance of vouchers, we no longer have all of the funding needed to house the most vulnerable homeless on our streets.  The inability to issue new housing vouchers will reduce the number of chronically homeless housed from 100 a month to just 35.  We need your help more than ever.
The earliest possible date the Housing Authority may be able to restart issuing new vouchers would be January 2018.
It will slash the number of chronically homeless individuals we will be able to house.

In March, The Way Home housed 74 chronically homeless individuals, and they were gearing up to house a 100 on a monthly basis.
Without the ability to issue new vouchers, we will only be able to house up to 35 chronically homeless individuals, reducing the number of chronically homeless housed by up to 65 percent.
the plan was to house 500 chronically homeless individuals in 6 months.

Including the 74 chronically homeless individuals housed in March (the first month of the challenge, we will only be able to house 249 chronically homeless individuals out of the 500 goal (251 short).
Solutions

It costs approx. $8000 – $8500 (including admin. costs) to house a chronically homeless individual for one year (supportive services are covered by other sources).
It would cost approx. $2.1 million to house the 251 chronically homeless needed to reach our goal.
I know it's not a good sight to see people under our bridges with tents and sofas and couches and cooking equipment. I know it's not something that we are proud of when we go to our games and we see people that are out there on our sidewalks. I understand that but I also recognize that they are people who have fallen through our cracks. People who are needing our help, people who are suffering from mental health and substance abuse. And i fully understand that people want them gone, i got that, but i also know these are not potholes. where there is a pothole, we can provide asphalt and we can cover it by the next day but these are not potholes. These are human beings and they are on our streets. and what difference does it make if we have smooth roads and smooth streets but we have people living on our streets with potholes in their lives. We can do better and we must do better than that.
the other day, I walked through one of the encampments. I ran into a homeless couple and the lady was very articulate and she was very persuasive. She said to me, "Mayor, I have every document, every paper that I received from Houston Authority or from some entity saying they want to put us in a better place. And not too long ago, a week or so ago, I have my paper that said that I am getting a voucher to move off the streets, my husband and I, to permanent supportive housing." And then she told me, "I got a call." And said that the voucher was no longer any good because of a change in policy in D.C. And so she looked at me and said, "Mayor, you want us to leave this underpass? now tell us with the voucher no longer being good, where do we go now?" And then she added by saying, "I also have a job and I can walk to my job from here. So Mayor, I understand you don't want us to be here but tell us now where do we go?"
We must provide them with options for all of us in this room, for all Houstonians, if we do not want many of them under our underpasses, we must give them options. $8000 - $8500, per person, will provide permanent supportive housing for these individuals for one year. if we can take people to the moon, I believe we can take care of our people right here on earth and i am asking the Greater Houston Partnership to join with me to make that happen.
Last month, I shared with the directors of our City departments my priorities for our government. They reflect citizen priorities gathered from across our community, and they paint a clear picture of an administration that gets the basics and can go beyond them. Sound financial management will underpin all we do, from lasting pension reform to our long-range financial plan for structural budget balance. Working from this foundation, we will emphasize public safety and infrastructure services – the basics that consume much of our focus. My goal is that by 2020, Houston's murder rate will be the lowest it's been in a generation. We will improve drainage, reduce congestion with better streets and a transportation network that provides multiple options (by the way, the new Kinder survey says people in our region want that more than ever before).
Complete Communities
When I first took office, one of the important projects moving forward was the Complete Streets initiative. We need complete streets that allow for safe, convenient walking and bicycling along with motor vehicles. But Houston doesn't just need complete streets. We need complete communities, communities that offer equal access to opportunity and prosperity for all, To include livable wages with decent benefits.  where a janitor can afford to take care of his or her family.  Like my mother, the maid, who struggled to take care of her 9 children. 
We need communities where every kid can get a great education and have safe places to play when his homework is done. We need communities where mothers and fathers can afford a decent home for their families. We need affordable housing.
Affordable Housing
As part of my Complete Communities Initiative, we will revitalize five communities at a time, starting from Acres Homes and Gulfton to the Near Northside and the second and third wards. We will work with residents and local business owners to identify priority projects and a revitalization plan. The City will target these communities and i am asking financial institutions, developers, retail grocery stores, non-profits and faith-based organizations, and endowments to concentrate their resources in these targeted communities. by leveraging our resources, we can transform these under-resourced, underserved communities. Second Baptist Church is already targeting acres homes.
This administration has kept a clear focus on jobs, private investment and economic development. We have worked continuously with GHP for expansion of local businesses, relocation of businesses and international trade opportunities.
Tech & Innovation
In the coming year we are exploring opportunities that are ripe for economic growth. Our City has long been revered as the energy capital of the world, the most diverse city in America and a global leader in healthcare, manufacturing, the Port, NASA and logistics, but most recently, our great City has fallen behind others when it comes to technology and innovation.
In fact, the Houston greater metropolitan area is the ONLY region to fall from the Kauffman Foundation's recent rankings of metros measuring high-tech startup density. And with regards to venture capital, our region was ranked 31st in the nation in venture capital investment, and third in the State of Texas, which is totally not acceptable for the 4th (soon to be 3rd) largest city in the country.
Last year, I commissioned a Task Force to investigate this issue to better understand the root cause of this problem and more importantly, how we fix it. They've looked at cities like Chicago, which just five years ago this month launched their regional hub, 1871. It has been a core driver to transform their local economy, spurring it to rise to a top city for technology, innovation and entrepreneurship. Since they launched this initiative, Chicago has seen the creation of more than 40,000 high-paying new tech jobs, venture capital investment in their region growing from $390 M in 2011 to $1.7 B last year and for the third year in a row, was named the top city in America with regards to corporate investment. We know a little something about innovation in Houston, and it is now time for us to be more competitive to further diversify and expand our economy. What Chicago can do, we can do better.
Technology innovation and a vibrant startup community are key drivers to our City's present as well as our future. In the spirit of collaboration, our Task Force is collaborating with the Greater Houston Partnership to drive this initiative. Through this plan, key initiatives include:
(1) the launch of a fund-of-funds model that will bring venture capital to the region and help our employers leverage innovation pathways (a model that has proven in other markets like Michigan and Cincinnati to be immensely successful in cultivating investment in technology and innovation); and
(2) the birth of an innovation district, that will give rise to the great creativity of our people, inspire new possibilities and foster our culture of innovation. Through the combined efforts of the City, corporate sector, academia, investors and start-ups we will create a robust, competitive innovation economy. We will also connect our efforts to our young talent here in Houston (who often leave our city once to pursue high-growth, high impact transformative technology opportunities), and we will make strides to attract other outside millennial talent to our City. Houston can and will be one of the most aggressive U.S. cities that advances and deploys new technologies that will shape new business and improve our quality of life - whether looking at autonomous vehicles or re-imagining manufacturing and logistics. These and other initiatives will provide us a blueprint to transforming our economy and creating opportunities, just like our friends in Chicago.
The world calls Houston a Knowledge Capital because of the incredible concentration of ideas and innovation in our great city.
One such idea recently conceived by a task force of Houstonians working with one of our academic institutions was for the creation of an Institute for Data Science here in Houston.
The Institute for Data Science represents a unique opportunity for Houston – to diversify our economy, solidify our leadership in technology and to strengthen our base of world-class educational institutions. We CANNOT let this opportunity slip through our fingers because the initial approach was wrong or because some may have disagreed with the original approach or motivation. If Houston wants to remain a global leader in energy, aerospace, healthcare and education, we also need to be a leader in data science. And the world's premiere data science center needs to be located here in Houston!
Houstonians also excel at coming together to support an ambitious vision and making that vision a reality. The Institute for Data Science should be a collaborative effort by our great educational institutions – the University of Houston, Rice, TSU, Texas A & M, UT and others – as well as members of the business and life science communities. I have spoken to Chairman Tillman Fertitta and encouraged UH to assume a leadership role.
I stand ready to become an active part of the crucial effort to create the Institute for Data Science to Houston and ask that you join me in this work.
The time is now for Houston to be the city of tomorrow.
With all that we have done and all that is on the horizon - I am before you here today, to state with resolve:
The City of Houston in 2017 has never been more ready…
We have never had:  More people.
We have never had:  More diversity.
We have never had:  More parks and greenspace.
We have never had:  More connectivity.
We have never had:  More artists, musicians, and talented individuals.
We have never had:  A more dedicated police force, fire department & municipal workers.
We have never had:  A development and business community so broad, robust and diverse.
If we do not invest in our city by giving our time, talents and treasure, we fail ourselves and our children. The question is not what will happen to us if we give. The question is what will happen to us and our city if we don't. This is our time, this is our moment, this is our season. God please give us the wisdom and courage to seize it.