>
Mayor's Office
> 2018 State of the City Speech
Mayor's Office
2018 State of the City Speech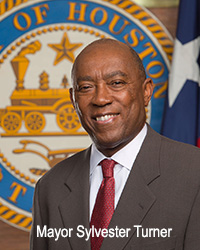 This is the mayor's speech as written.
There may have been slight deviations in delivery.
It's good to be with you today for my third state-of-the-city speech. Thank you, Marvin, for your introduction. After Hurricane Harvey, I appointed Marvin as the city's chief recovery officer and he has done an excellent job in leading the effort.
Let me start off by saying, the STATE OF OUR CITY IS STRONG, AND EVERYDAY WE ARE BECOMING MORE RESILIENT. THIS CITY IS OPEN FOR BUSINESS.
Harvey was a wake-up call to all of us who set a course for the city's future.
As the world looked on with empathy, we showed the special way that Houstonians are always ready to give to each other – with physical energy, compassion, prayer, money, and volunteerism. But Harvey did not defeat us. We endure because we are stronger when we work together.
And during the Harvey flood, dedicated city workers fought high waters to get to work. Two died in the process: Police Sgt. Steve Perez and Joseph Dowell of Public Works. Mr. Dowell was a hard worker making the best of a second chance in life. Sgt. Perez worked every day to protect our lives. The devotion to public service demonstrated by Sgt. Perez and Mr. Dowell is something we should never forget. Mr. Dowell's father, Joseph Sr., and sister, Tammy, are here with us today.
Houston is bouncing back. But we are not where we need to be. We continue to push for federal funding for flood mitigation projects and more affordable and available housing.
You can drive into some neighborhoods and see that they are "normal" -- like a storm never hit. But we can't forget many Houstonians are still displaced and in housing that needs to be repaired. And we can't ignore the reality that Houston was hit by three 500-year storms in three years.
A few weeks ago, the city council passed sweeping changes to Chapter 19 – flood prevention reforms for new construction.
Let me be clear, the goal of the city is not to discourage or try to prevent development. But if we are going to build, we must build forward in a way that is more responsible and mitigates the risk of flooding.
That is why over the next several months, I will ask city council to address Chapters 9 and 13. We also need improvements in our drainage, curbs, and infrastructure to help prevent future flooding. That is why the continuation of Rebuild Houston is needed. Some things will have to change. Some of these changes may seem too aggressive, and for others, they may not be aggressive enough.
But when we passed the changes to Chapter 19, FEMA wrote the city a letter and issued a press statement stating Houston had become "a model to the nation."
That is the Houston I know – we face our challenges head-on.
We are stronger when we work together.
2017 was an incredible year together.
We successfully hosted a Super Bowl.
With the help of the voters, we achieved pension reform.
We launched the Complete Communities program intended to ensure no neighborhood is left behind.
We persevered through Harvey.
We celebrated with the World Series Champions Houston Astros, and together we shall cheer on the Houston Rockets.
In a few days, I will present the FY 19 budget. It will close a $114 million gap, without layoffs, while maintaining a healthy fund balance. I'm asking departments again to reduce their budgets for a third consecutive year, which will total over $80 million in department reductions. Instead of filling vacancies, we are eliminating positions.
But even as we protect the taxpayers in those ways, the city must address what is called the Other Post-Employment Benefits, or OPEB. Retiree health care costs have created a $2 billion liability for the city over the past decade. By the time we meet again, the goal is to have a plan in place reducing that liability.
At a time when finances are tight, our growing city sorely needs the revenue to increase the number of police officers and provide more resources for police and fire. As a comparison, Chicago has nearly 13 thousand police officers covering 275 square miles. Houston has 5,100 police officers covering 640 square miles and one-thousand of those officers are eligible to retire.
In 2006, former Mayor Bill White asked the voters for permission to raise $90 million on top of the revenue cap. I would like permission to raise on top of the revenue cap for public safety only.
The current model is not sustainable. Our city is growing, people are coming here from all over the world, and we have special events in our city every week. My #1 priority is the safety and security of our citizenry, and we need more officers, technology, and other assets. Cyber Security is a must.
Last year in my speech, I said technology innovation and a vibrant startup community are key drivers of our city's present and future.
In the past few weeks and months, Houston has taken huge steps toward becoming a global leader in this area.
Working with the GHP, we combined tech forces into Houston Exponential.
We launched the innovation hub at the 1938 Sears building with the help of Rice University and all the others local colleges and universities, collaborating to make Houston a world leader in data science and digital technologies.
And in yet another collaboration that disrupts a lot of silos, the TMC-3 project will bring together the best medical institutions and brightest minds in clinical care, research and industry.
We did not get Amazon, so we will create our own and prepare ourselves for the next opportunity.
As the world's largest medical center continues to innovate, I am also excited that my alma matter, the University of Houston, has proposed and taken definitive steps with H-C-A for the creation of a new medical school to open in 2020, whose mission it will be to produce physicians who practice in primary care – our first defense in preventing chronic diseases and identifying behavioral and mental health issues.
Last week, Houston was named one of America's Most Family-Friendly cities (by Homes Dot Com) for several reasons, including park acreage per capita.
I want to thank Nancy and Rich Kinder for their generous, historic $70 million donation to fast-track the Memorial Park Master Plan.
Astros owner Jim Crane and his wife Whitney have stepped up to donate $1 million and lead the fundraising to redo Jones Plaza as a theater district park. I thank them, too.
When I became mayor, I said I didn't want to govern two cities. Last year, I launched Complete Communities starting in five neighborhoods, Acres Homes, Gulfton, Second Ward, Near Northside and Third Ward.
The goal is to create more complete neighborhoods with access to quality affordable homes, jobs, well-maintained parks and greenspace, improved streets and sidewalks, grocery stores, retail, good schools, and transit options.
I met with 29 financial institutions.
While the spotlight has been on our signature parks, we can't forget about our local, neighborhood parks and how much they mean to people who live in local, communities. That is why today I am hoping that someone will make a generous, sizeable donation targeting our neighborhood parks in underserved communities.
Quality schools are another component of complete communities. Last week, I asked HISD to stand-down from submitting an improvement plan to the Texas Education Agency by yesterday's deadline. I have asked the commissioner of education to grant HISD a one-year waiver to give it time to find the best solution for our children.
Considering Hurricane Harvey's impact on our students and campuses, this is not the time to add to the stress of students, parents, teachers and other served by HISD.
I am committing myself to a leadership role to find and execute the best path forward. By working together, we can develop a viable model with the singular goal of moving all schools up from the "Improvement Required" rating.
In order for this city to attract businesses from around the globe, our independent school districts must offer a high quality of education. The state's failure to address school finance reform and the failure of past superintendents and board of trustees to improve neighborhood schools have done a disservice to thousands of our children. I will explore a model that takes responsibility for low-performing schools similar to what was done by the mayor in LA ten years ago.
Bullet train
Hire Houston Youth/Summer Youth Jobs (started with 450 jobs, 7,500, 10,000 future goal)
Gastech Conference & Exhibition 2019
Ismaili Center 2019
Many people ask me, "How did Harvey change us?" I would argue that Harvey didn't change us. It showed the world who we are.
We are each other's keepers.
We get in boats and rescue on another.
We feed and clothe one another without a second thought.
We help each other to remediate and to rebuild.
We are very resilient people working to build a more resilient city we call Houston.