>
Mayor's Office
> 2019 State of the City Speech
Mayor's Office
2019 State of the City Speech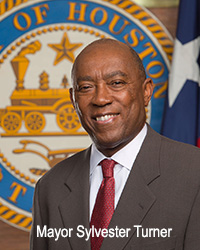 This is the mayor's speech as written.
There may have been slight deviations in delivery.
Good afternoon,
Since we met last year, together more than 86,200 jobs have been created in our region, and the city now has the lowest unemployment rate since 1981 (almost four decades)
IDC Government Insights recognized Houston as a smart city; 5G is being deployed; tech companies now see the added value of expanding in Houston #Silicon Bayou.
The state-of-the-art recycling center is now open in NE Houston; curbside recycling of glass is back.
Contractors and labor groups are placing more emphasis on job safety, healthcare for subcontractor employees, and better wages.
Steve Costello, Chief Recovery Officer; Marissa Aho, Chief Resilience Director; Shannon Buggs, Complete Communities Director are working in alignment with all our departments and stakeholders to build a STRONGER, RESILIENT and SUSTAINABLE Houston.
Minal Patel Davis, Special Advisor on Human Trafficking, has received the Presidential Award acknowledging her work and the city's efforts in attacking labor and sex trafficking, and cities across the country recently convened in Houston to learn from us how to enhance their efforts.
Pension reforms are working with the unfunded liability coming from $8.2B to $4.0 B, and we are fully paying the annual pension costs for the 2nd year in a row.
Since 2016, city council has approved 3 balanced budgets and this 4th budget will be without layoffs or deferrals and fund 5 police cadet classes for public safety.
Infrastructure remains a top priority. Rebuild Houston has been renamed to Build Houston Forward. Now we want to accelerate the repair and rehabilitation of drainage and streets, with a greater focus on neighborhoods and not just large major thoroughfare projects which severely limit the extent and impact of improvements.
We want to work very closely with the county to complete the 239 projects authorized by the voter approved bonds post Harvey.
We look forward to working with the GHP to nudge the Federal and State governments to advance the billions of dollars of federal infrastructure dollars, already approved, needed to expand our channels, construct more detention basins, another reservoir, and the coastal spine. To date we have not received one dollar for needed infrastructure projects 19 months after Harvey.
We are hopeful that the state will tap into its $12 Billion rainy day fund and assume the local match required for these federal dollars.
If the Port of Houston is to continue to be competitive globally, the channel must be deepened and widened all the way to allow for 2-way traffic and federal dollars will be needed.
Since 2010, the city has been embroiled with the EPA and the Department of Justice on the terms of a consent decree regarding SSOs. It is my hope that within the next 30-45 days we will reach an amicable resolution and bring this matter, like pensions, to an end.
We live and do business in a growing and developing region. Decades ago the city took steps to ensure it had an adequate supply of water. The legislature is advancing a bill that literally will take away the 70% water rights (15% of the city's water portfolio) in Allen's Creek which is needed for our future development. It is an unjust taking of a property right without fair market compensation in a conservative state. If passed, the city will challenge.
Every day, Monday through Friday, the daytime population of our city increases by 27%. We are losing too many productive hours on our streets. Our city has changed; the region is changing; and our transportation, transit, mobility system must change. People want options. We must give them options. Multi-modal options. We must give them a transit system that meets their needs. Metro will put forth their Metro-next plan in November for your consideration and I hope you will support it.
From all indications the high-speed train has survived the legislative session. It's construction and operation will add thousands of jobs, a tremendous amount of development, and a signature transportation attraction to our state.
An integral part of our infrastructure has to do with our parks and green space. Even as we seek to re-design I-45, one of the goals is to exponentially add more parks and green space and connect communities that have been separated by our freeways.
Houston is blessed with signature parks that have attracted generous donors. In the last decade, Houston has earned a national reputation for its ongoing green renaissance fueled by transformative public-private partnerships. In 2020, we will come together again to celebrate the completion of the Bayou Greenways 2020 plan that connects 1.5 million Houstonians to linear parks and trails along our bayous and to one another.
However, the work to uplift all our parks is far from complete. As we become a more resilient city, we must continue to build up the amenities and gathering spaces in neighborhoods across the city. Today I am asking GHP, the Houston Parks Board, and the Parks Department to help me bring together 50 companies to form a city-wide coalition for our neighborhood parks primarily in communities that have been underserved.
With 50 companies partnering with 50 parks, the "50-for-50" effort will touch every district in the city because all Houstonians should have easy access to welcoming, well maintained, safe and fun parks.
Like any great city, Houston is a collection of different neighborhoods-each with its own character and priorities.
As we build complete communities, the end goal is to build one complete city from recovery to resilient to sustainable.
100 Resilient Cities—Shell sponsor
Building Climate Action Plan—CenterPoint underwriter
10 thousand summer jobs/Hire Houston Youth (9,500 private sector)
Innovation HUB/Corridor—collaboration with academia, medical center, energy and tech companies
Re-emergence of Astroworld theme park—Travis Scott, the rapper, instigator (Millennials/future leaders)
We are building one complete city, and when we work together Houston, we WIN!!
I am pleased to report to you today, the state of our city is STRONGER, RESILIENT and SUSTAINABLE.