>
Mayor's Office
> Chief Recovery Officer
Mayor's Office
Chief Recovery Officer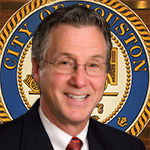 Stephen Costello
Contact stephen.costello@houstontx.gov
Phone: 832.393.0811
Or
Gloria Moreno
Contact gloria.moreno@houstontx.gov
Phone: 832.393.1074
Or
Ryan Slattery
Contact ryan.slattery@houstontx.gov
Phone: 832.393.0853
City Hall, 901 Bagby, Mezzanine
Houston, TX 77002
The Recovery Officer for the City of Houston engages on the mayor's behalf with governments at all levels, private and non-profit organizations, interest groups and individuals, as well as the mayor's staff and city department heads on a two-fold mission: Ensure a rapid, quality recovery from Hurricane Harvey and other Legacy disasters and position the city to be less vulnerable to the next record-breaking storm. With extensive flooding and drainage expertise, the Chief Recovery Officer serves as the city's liaison to identify transformative projects and design strategies for mitigating flood risk and achieving flood resiliency.
Houston Adopt-a-Drain
Encourages individuals to help prevent flooding and keep Houston's neighborhood storm drains clean and litter free. Visit www.houstonadoptadrain.org for more information and to adopt your drain today!
Community Development Block Grant Mitigation Program
The Community Development Block Grant Mitigation (CDBG-MIT) Program provides eligible grantees assistance in areas impacted by recent disasters to carry out strategic and high-impact activities to mitigate disaster risks and reduce future losses. Congress appropriated $12 billion in CDBG funds in February 2018 specifically for mitigation activities for qualifying disasters in 2015, 2016, and 2017, and HUD was able to allocate an additional $3.9 billion, bringing the amount available for mitigation to nearly $16 billion.
The program defines mitigation as activities that increase resilience to disasters and reduce or eliminate the long-term risk of loss of life, injury, damage to and loss of property, and suffering and hardship by lessening the impact of future disasters.
The State of Texas has received $4.3 Billion dollars which have been programed for various activities, including mitigation projects and the program is administered by the Texas General Land Office (GLO). The City of Houston is eligible to participate in the 2016 and Harvey competitions. For more information on the applications submitted for review to the Texas General Land Office visit https://www.houstonpublicworks.org/transportation-drainage. The six areas for which application have been submitted are: Huntington Village Area; Port Area; Kashmere Gardens Area; Fifth Ward Area; Sunnyside Area, Alief parks Area; and Braeburn Glen Area.
2020 Texas Water Development Board – Flood Infrastructure Fund applications
Passed by the Legislature and approved by Texas voters through a constitutional amendment, the FIF program provides financial assistance in the form of loans and grants for flood control, flood mitigation, and drainage projects. The Flood Intended Use Plan (Flood IUP) details the structure of each funding cycle. For more information visit http://www.twdb.texas.gov/financial/programs/fif/index.asp.
In 2020, 2 applications were submitted:
Taylor's Gully Flood Reduction Project, a $15 Million 0% interest loan application for improvements along Taylor's Gully
Wynnewood Project, a $12.3 Million 0% interest and grant for storm system and roadside ditch improvements
These applications are currently under review by the TWDB. For more information, please contact the Recovery Office.
FEMA Hazard Mitigation Grant Projects
Following Hurricane Harvey, the City of Houston submitted applications for flood risk reduction. These include channel improvements, detention basins, dam improvements, and home elevation. Three applications have been approved and funded for the design phase. For more information on the three approved projects, access the one-pagers below (.pdf, updated 01.04.2021).