>
Mayor's Office
> Chief Recovery Officer
Mayor's Office
Chief Recovery Officer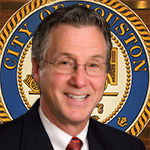 Stephen Costello
Contact stephen.costello@houstontx.gov
Phone: 832.393.0811
Or
Laura Patino
Recovery Chief of Staff
Contact laura.patino@houstontx.gov
Phone: 832.393.1123
Or
Contact ryan.slattery@houstontx.gov
City Hall, 901 Bagby, Mezzanine
Houston, TX 77002
The Recovery Officer for the City of Houston engages on the mayor's behalf with governments at all levels, private and non-profit organizations, interest groups and individuals, as well as the mayor's staff and city department heads on a two-fold mission: Ensure a rapid, quality recovery from Hurricane Harvey and other Legacy disasters and position the city to be less vulnerable to the next record-breaking storm. With extensive flooding and drainage expertise, the Chief Recovery Officer serves as the city's liaison to identify transformative projects and design strategies for mitigating flood risk and achieving flood resiliency.
Houston Adopt-a-Drain
Encourages individuals to help prevent flooding and keep Houston's neighborhood storm drains clean and litter free. Visit www.houstonadoptadrain.org for more information and to adopt your drain today!
FEMA Hazard Mitigation Grant Projects
Following Hurricane Harvey, the City of Houston submitted applications for flood risk reduction. These include channel improvements, detention basins, dam improvements, and home elevation. Three applications have been approved and funded for the design phase. For more information on the three approved projects, access the one-pagers below (.pdf).