Mayor's Office Press Release
Former Obama Aide to be Mayor's New Disabilities Director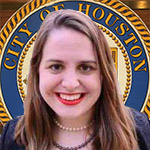 February 23, 2017 -- Mayor Sylvester Turner has selected Maria Town to be the new director of the Mayor's Office for People With Disabilities. Town comes to the mayor's office from the White House Office of Public Engagement where she served as a senior associate director and the disability community liaison. She will be filling the position that has been vacant since the passing of Jay Stitley last July.
"Maria has amassed quite an impressive list of professional accomplishments," said Mayor Turner. "She is energetic and passionate about ensuring that the diversity of the disability community is represented in issues related to healthcare, education, criminal justice reform and community integration. She also brings the unique perspective of the millennial generation. I am excited to have her join my administration."
Town worked in the White House in the last two years of the Obama Administration. She is credited with leading the efforts to commemorate the 25th anniversary of the Americans with Disabilities Act and using creative methods to enhance the Obama Administration's engagement with the disability community. Prior to the White House, Town was employed at the U.S. Department of Labor Office of Disability Employment Policy where she was instrumental in advancing national public policy initiatives focused on improving employment outcomes for youth with disabilities. Her other previous experience includes working in the Provost's Office at Emory University where she earned a bachelor's degree in anthropology and served as university-wide student body president.
In her personal time, Town is the founder of CP Shoes, a blog dedicated to exploring the intersection of design, fashion, disability and technology. She is also a former fellow and mentoring co-chair of the Washington, D.C., chapter of the New Leaders Council, a former participant in Mobility International USA's Young Women with Disabilities Leadership Exchange Program, a former co-moderator of a networking group for young professionals with disabilities in Washington, D.C. She has also been involved in the Girl Scouts of the Nation's Capital.
Town has received several honors and awards for her work in the disability community. She will start work in the mayor's office on February 27, 2017.