Mayor's Office
State of the City 2014 Address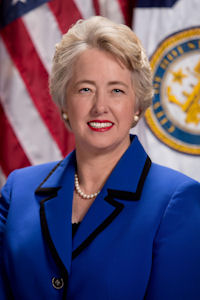 Mayor Annise Parker
State of the City Address
April 3, 2014
(As written – There may have been slight deviations in delivery)
Good afternoon. You know I can't start without saying how much I love this city! I know you love it, too. Together we are building a bright future for Houston.
Obviously, it is easier to stand before you this year than it was four years ago. We have come so far from that first tough term in office when Houston and the rest of the nation were in the midst of the economic downturn. 2010 seems like a lifetime ago, and yet just yesterday. So much has been accomplished. Each day we strive to be the best Houston we can be. Our rankings prove this again this year. We are one of the best cities in which to find a job. We are the "Most Walkable City" among the state's largest cities. We are a top city for global trade. We have the "Best Domestic Airport." One ranking even has us as the "Best City in America".
The progress we've made and continue to make allows me to once again proclaim: The state of our city is strong--- and our strength is increasing every day. The problems have been identified, the opportunities magnified.
In January, I took the oath of office for my third and final term. Due to how well we are doing, it might seem easy to coast in these last two years – to rest on our laurels. But that's not how I'm wired. We will not stop. We will not slow down. We will not rest because there is too much left to accomplish before my time as your mayor is finished.
I will talk about where we are going, but I first I want to recap where we've been.
We are rebuilding this city, growing our economy, creating a firm financial foundation, maintaining the lowest per capita crime rate in the city's history, improving our parks and cleaning up our neighborhoods.
Yes, our roads are in terrible shape. I wish the full benefit of ReBuild Houston could come faster, and we are reprogramming as many dollars into repair as possible. There are no quick fixes for years of deferred maintenance. Our pension challenges were years in the making as well. I am moving every lever possible to fix them.
We aren't just talking about doing it, we are doing it!
The Economy on a Roll
In the last four years, the Houston region has created more than 364,000 jobs, exported approximately $470 billion in goods through the customs district, and issued permits for the construction of nearly 108,000 single-family homes.
Houston has led the nation in export growth for two consecutive years, and has led the nation in housing permits four years in a row. We are a powerful economic engine.
This growing economy is spurring a bit of a building boom. The numbers are pretty impressive. In our major business centers, of Uptown, the Energy Corridor, Westchase, Midtown and downtown, there are more than 100 projects underway with projected capital investment of $7.5 billion. About half of these projects are high rises.
We are also seeing some extraordinary growth opportunities for our airports. In the past year, ground was broken on the new international terminal at Hobby Airport. In less than a year's time, IAH has marked or announced the arrival of Korean Airlines, Turkish Airlines and Air China – all three of which have already increased the number of flights available to passengers over their original operation. And just this week, we learned that Scandinavian Airlines is launching nonstop service to Stavanger, Norway. We are doing it!
Another big win for Houston since my last State of the City is the news that the Super Bowl is coming here in 2017. The game gives a focal point for completing already planned improvements taking place here in the Convention District, including next week's groundbreaking for the Marriott Marquis on the other side of Discovery Green, Houston's second convention hotel. Nearby, three more hotels and four major residential projects are under way. And we will break ground this fall on the Nau Center for Texas Cultural Heritage, a state-of-the-art visitors' center for the hugely untapped market of heritage tourism. So, all eyes are on 2017. We are doing it!
A City Being Rebuilt
We are rebuilding our infrastructure. Since Rebuild Houston was implemented, $250 million of your dollars have been spent improving streets and drainage. 87 projects have been completed, 450 miles of street have been rebuilt or paved with asphalt, 557 miles of ditches have been re-graded and 131 miles of storm sewer line have been cleaned. There's more to come. In 2014, more than 200 projects will begin construction or advance closer to completion.
As a result of our transformative new approach for Houston streets the needs of all users will be accommodated as we grow. The Complete Streets and Transportation Plan will ensure safe, accessible and convenient use by motorists, public transit riders, pedestrians, people of all abilities and bicyclists. We are doing it!
Holding the Line on Crime
We are improving the science and restoring public confidence in our efforts to catch criminals and protect the innocent. Two years ago, I promised Houstonians we would fix the issues that have for years plagued the Houston Police Department's crime lab. Today, April 3, the Houston Forensic Science Center formally assumes independent management of HPD's crime lab operations. From the start, my goal has been independence – a crime lab independent of police, prosecutors and political influence. We have met that goal with a program that is already serving as a model for the rest of the nation with its recent high marks for successful implementation of dozens of improvements. We are doing it!
We have kept the promise to eliminate the backlog of untested rape kits. As of today, I am able to report that testing is nearing completion on the 6600 untested kits that had been in storage dating as far back as 1987. This backlog was a terrible miscarriage of our responsibility to thousands of rape survivors. It should have never happened.
Say it with me everyone, we are doing it!
Combining our Efforts
Last month during Harris County Judge Ed Emmett's State of the County, he suggested that more cooperation between the city and county would be beneficial. I couldn't agree more.
We already operate joint libraries. We operate shared parks. In fact, Comissioner Radack has signed long-term interlocal agreements to operate and maintain six city parks. Likewise, we have divided responsibilities between our health department and various county agencies to protect public health. And the Houston Housing Authority and the Harris County Housing Authority are working together for the first time.
But it is in the area of law enforcement that we are making the most progress.
The Harris County Sheriff's Office now has the ability to use our innovative sobering center as an alternative to jail for people detained for public intoxication, saving dollars and getting county deputies back on the streets faster.
We are working together on the construction of a joint processing center for the county jail, which will finally allow the city to close its obsolete jail and a great cost savings, and a more humane situation for prisoners.
We are open to the idea of crime lab consolidation, if and when the Houston Forensics Science Center board makes that recommendation.
And we are also pursuing opportunities for consolidation elsewhere, including whether to merge the METRO police force under HPD's umbrella.
The Final Two Years
As I noted at the beginning of this speech, we've accomplished a lot in four short years. So, what's left to do? Finish the job we have started, with important additions.
We will continue to solidify Houston's reputation as a "green" city.
I have committed to reducing the City of Houston's Greenhouse Gas (GHG) Emissions by another 10 percent, for a total reduction of 36 percent since 2007. Our achievement is impressive, but we must not stop there.
We will expand the privately funded Houston Bike Share, and I have committed funds for a comprehensive bikeway plan. I am committed to increasing cycling safety. The new Safe Passage Ordinance requiring a 3-foot buffer between motorists and cyclists and HPD's stepped up enforcement are helping. Expanding our cycling infrastructure will help even more.
Being a green city also means paying attention to our tree canopy. We will continue to replant from the drought, and we will not tolerate the destruction of our public street trees. Those who think they can get away with it in the dark of night or on the weekend are warned that we will find you and take you to court. (The city attorney has achieved some eye-popping settlements.)
Development is underway on a cultural plan that will serve as a roadmap for the arts and solidify Houston's reputation as a global destination. This will be the first update of an existing cultural plan crafted more than 20 years ago.
The first general plan in Houston's history is also being developed. And the Houston Parks Department is in the process of preparing a new Master Plan to provide a better road map for developing park space. "No zoning" doesn't mean "no planning".
When coupled with improvements at Emancipation and Moody Parks, the Bayou Greenways initiative and the transformation of Buffalo Bayou Park, Houston will have a first rate parks system that can meet the needs of its residents for years to come.
Say it with me, we are doing it!
And, for those of you who've been "UBER excited about the new options for catching a Lyft" in Houston, there will be new regulations in place to ensure both a fair market and user safety. I also still want to see modern regulations for food trucks. And Houston will be home to a botanical garden.
Homelessness
Homelessness affects the health of our citizens and neighborhoods, as well as our economy. Whether viewed through the eyes of a homeless individual, local resident or visiting tourist, homelessness challenges Houston's image as a compassionate, can-do City.
It has been two years since I announced the goal of Ending Chronic Homelessness as a top priority of my administration. As of today, we have successfully placed more than 1400 chronically homeless and at-risk individuals into safe and stable Permanent Supportive Housing, about half of the total number of chronically homeless individuals in Houston. In the downtown area the number of chronically homeless individuals has decreased by 50 percent in the past two years to around 500 individuals.
Alma and George are two people who are being helped by this effort.
Alma has been homeless off and on for 15 years. She's not what you think of when you think of the homeless. She completed 2 years of college and worked as a secretary at a prestigious Houston law firm. After losing her job 3 years ago, she found herself homeless again, spending many nights sleeping on the streets, with "no one to help, no one to call." She recalls the generosity of other homeless individuals who would "check to make sure she was ok." In mid- January of this year, she started working with case managers and is now scheduled to be placed in safe and stable housing with robust supportive services. When notified of this, she fell to her knees and wept.
George is 55 years old. He was incarcerated for 32 years before being released in 2011 when he became homeless. He was successfully housed in June of last year. He has earned welding and forklift certificates and Transportation Workers Identification Credentials. He volunteers as a handyman at SEARCH. He goes back to prison regularly, not as an inmate, but as a volunteer ministering his positive message of rebirth and second chances. Perhaps he's the employee you need?
This entire effort is focused by a leadership team consisting of some of our city's top business, religious and philanthropic leaders. Chevron and Wells Fargo are helping with pledges of significant resources, and today, I challenge the rest of you to step up to be a part of this exciting, nationally recognized, community-driven endeavor.
Embracing Diversity
Houston not only cares for those who cannot always care for themselves; we also open our arms to change.
The Houston I know is:
accepting,
tolerant,
diverse,
understanding,
inclusive,
open-minded and unbiased.
The Houston I know:
does not discriminate,
treats everyone equally and
allows full participation by everyone in civic and business life.
We don't care where you come from, the color of your skin, your age, gender, what physical limitations you may have or who you choose to love. Yet, Houston is the only major city in the nation without civil rights protections for its residents. It's time to change that so that the laws on our books reflect what Houston is.
That is why this month I will send City Council a proposed Human Rights Ordinance. This ordinance will prohibit discrimination in city employment, city contracting, housing and public accommodations (which include bars, restaurants, retail stores and businesses that provide services to the public). Complaints about violations of the ordinance would be reviewed by the City's Office of Inspector General and a new seven member board known as the Human Rights Commission.
A young African American man should not be turned away from a club on Washington Avenue. A returning veteran with a service dog should not be denied service at a local restaurant. An older woman should not be denied a job on a city contract. And, yes, a gay or transgendered individual should have the same rights enjoyed by all other Houstonians. It's long past time that we ensure equal protection for our residents. Our largest employers already have these protections, and I hope I can count on the support of each of you here as we move forward because the Houston I know doesn't ignore inequality.
As you leave here today, hold Houston in your heart. Continue to have faith in our city that works for today, invests in the future, welcomes change, meets challenges, and embraces the world.
Thank you.
Biography of Mayor Parker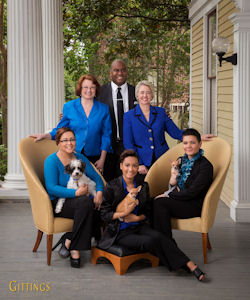 Mayor Parker and her family
Photo © Gittings
Click image above for a full-sized version