>
Mayor's Office
> 2016 WECP Speech
Mayor's Office
2016 WECP Speech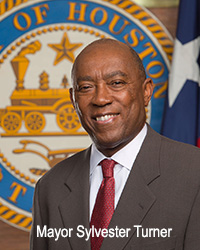 "WECP: Powering Energy Cities through
Innovation, Inclusive Growth, and Resilience Strategies"
Mayor Turner's Speech at the
World Energy Cities Partnership
Cape Town, South Africa
November 2016
Good morning! It's a pleasure and an honor to join all of you here in Cape Town as part of the World Energy Cities Partnership Annual General Meeting
Thank you, Mayor Helgø, for those opening remarks. Christine, you and the City of Stavanger have been one of the pillars of this organization; your dedication and hard work have helped the WECP grow into the strong partnership it is today, and I thank you for that.
I want to thank Mayor Savage of Halifax for guiding this organization through a time of transition. Mike, during your time as president, the World Energy Cities Partnership has continued to grow, improve, and positively impact our respective cities.
I also express my sincere gratitude to Mayor de Lille. Patricia, you and the people of Cape Town have been gracious hosts. Isn't this a great city? Let's give Patricia and her team a round of applause for their hard work. From Table Mountain to Groot Constantia, Cape Town's beauty, generosity, and rich history surround us at every turn. As the newest member of the Partnership, I can think of no better place to host this year's Annual General Meeting than right here in Cape Town.
Friends, this is my first World Energy Cities Partnership Annual General Meeting, and I'm thrilled to be here. I've learned so much about the cities that are part of this great collaboration, and I made sure that I could participate in the Annual General Meeting to collaborate with you and discuss the practices that make our energy cities great.
It's easy to thrive when oil is $100 a barrel, but when it's not… well, that's another story. Like many of you, I want the World Energy Cities Partnership to be a place where we discuss innovation in the energy sector- A forum where we think about strategies that that will not only help our energy powered cities prosper, but also benefit the citizens of our cities. And like you, I want the Partnership to be a place where we share examples of insulating our economies from sudden changes and recovering quickly when times get tough. 
One thing remains clear: the world is still hungry for energy. The International Energy Outlook 2016 report forecasts a 48 percent increase in world energy consumption between the years 2012 and 2040.  How we source that energy will continue to evolve. As it does, so must our cities and our Partnership. 
That's why it's more important than ever that the World Energy Cities Partnership focuses on three things in the years ahead: innovation, inclusive growth, and resilience.
Innovation
By 2035 China and India will become the first and second top consumers of energy. They will collectively make up nearly a third of the world's energy consumption, creating an unprecedented global demand. As we head toward that inevitability, accompanied by increased urban populations and consumption, we must think about new, innovative ways to meet those needs.
We will need to look to both renewable energy and hydrocarbons to power our future and meet the demands of the millions of people in China, India, and each of our own cities. Whether we are searching for new ways to use oil and gas – or exploring other energy sources such as hydrogen, solar, biofuel, wind, even nuclear – our cities must innovate and adapt in order to survive.
To do that, we need new ways of thinking. Cities can adopt new policies that promote and advance research, development, and growth across the energy sector. As mayors of cities and leaders in our communities, we can create innovative environments to support the expansion and growth of new technologies needed for a thriving energy sector.
That's why I'm pleased to see the Environment Committee's focus on energy policy innovation. The Committee's first task is collecting and sharing new policies cities have implemented to attract and develop green energy projects that positively impacted their local economies.
Two leaders in environmental efforts have been Esjberg [Es'-be-air] and Stavanger. We all know that Esjberg has mastered wind energy, and Stavanger has mastered harnessing hydraulic power. We all know what they are today, but how did they get there? What intentional decisions did they make to support research and development? How did they regulate – or perhaps take precautions to avoid overregulating? How were the industries supported without stifling growth and creativity or depleting the capital needed for them to survive? This is what the Partnership is all about – asking these essential questions and making use of the expertise of all the diverse members of this organization. 
Clearly, innovation is more than just technology. For cities, innovation also refers to the policies that help attract and foster new ways of thinking. This could mean decentralizing rules and regulations at the national level to allow municipal governments – those closest to the people – to decide how to creatively adapt to the needs of the energy industry in their cities.
This could mean providing incentives in the form of tax abatements, municipal bonds, zoning, or some other creative measure to promote diversification of energy research, development, and production. For some communities, this could mean urging public-private partnerships to seek out greater collaboration between communities and businesses to address local needs.
Cities like Kuala Lumpur have already realized how vital innovation is to their success and are advancing at a rapid pace as a result. This year "KL" hosted its first oil and gas innovation forum as well as a number of other international conferences focused on innovation. KL, in partnership with the Malaysian government, encourages innovation in research and development, commercialization, and everything in between.
In my own city, we have strived to create spaces for innovative collaboration. That's why we established the Houston Technology Center in 1997, with public and private support, to advance the commercialization of emerging technology companies in the greater Houston area. Together, local government and business leaders made the progressive decision to make the Center independent. The Center prioritized innovation in energy, information technology, life sciences, and NASA-originated technology.
Today, Houston Technology Center staff works closely with entrepreneurs and startup companies to provide strategic and tactical business guidance, fundraising advice, and connections to potential partners and capital. The Center has provided feedback on innovation possibilities to more than 1,000 companies, and as a result, has helped raise more $2.5 billion in capital and aided in the creation of more than 5,000 jobs in the Houston metropolitan area.
There is no one-size fits all for setting policies and creating cities that support innovation. The World Energy Cities Partnership is a forum where we can share best practices on innovation. It's up to us as mayors of energy cities to make informed decisions based on quantifiable data. We must set performance standards for innovation, and make sure we not only meet those standards but beat them. And we must create an environment that encourages the energy industry and businesses, as well as community stakeholders, to smartly and effectively help us reach those innovation goals.
Inclusive Growth
As we strive to innovate, that innovation should intentionally lead to economic growth for everyone. Investment in research and development leads to real gains, including creating new jobs and alternatives that drive competition. As mayors of energy cities, we should deliberately make efforts to ensure that innovation leads to economic growth of the energy sector, and that economic growth in the sector also leads to inclusive growth for all people in our cities.
A few weeks ago, officials from Houston joined representatives from all over the world at the UN Habitat Three conference in Quito, Ecuador, where they discussed the New Urban Agenda policies that would benefit all people in our communities. The New Urban Agenda underscored the importance of inclusive growth – the idea that economic growth creates opportunity not only for the business persons at the top of the chain, but for all segments of society. The New Urban Agenda even went a step further, projecting that we can achieve "sustainable and inclusive urban economies" by leveraging innovation and competitiveness to promote full and productive employment.
One promising area of inclusive growth that Houston has focused on is something we call "complete communities." Complete communities are ones that are designed in such a way that you can find all of your daily needs within a short geographic distance. They are livable areas that benefit all of their residents by making basic activities like going to grocery stores, taking your children to school, and heading to work more accessible, regardless of whether you have a car, take the train, ride a bike, or walk. They are also areas that boast affordable, single-family housing for middle income citizens and families to live and thrive.
In other words, these innovative complete communities foster economic growth in a way that aims to include everyone. Complete communities are good for the people that live there, and they are good for the businesses that they support. 
So, what does this have to do with the energy industry? Energy is one of the strongest markets in Houston, and our Energy Corridor in West Houston is home to more than 300 multi-national, national, and local energy companies. Situated nearby the Energy Corridor is Houston's popular City Centre development, our first effort to establish a complete community. It's a good example of a successful development project that follows this model. It aims to create affordable housing for middle-income families through multifamily and single-family housing. The City Centre development is also home to energy companies and has attracted satellite offices of major universities, fine dining and fast food restaurants, and grocery stores.
This accessible urban design strives to be inclusive; the design ensures that people of different socio-economic backgrounds can enjoy the benefits. And while we strive for inclusion, we recognize that we are not fully there yet. In City Centre and future efforts, we must work harder to ensure that the economic benefits of the energy sector are shared by all people. We are working hard in Houston to replicate and improve this model of complete communities, which is one of the ways in which my city addresses inclusive growth.
The World Energy Cities Partnership has also promoted inclusive growth for a long time and has had a meaningful impact in the world. This Partnership has contributed to the exploration of opportunities for mutual development in a variety of strategic areas, such as education, environmental technology, medicine and bio-science, and tourism development. Cities across the Partnership are already talking about inclusive growth; the Partnership should be a place where we collaborate on these efforts and share what's working and what's not.
A stronger economy, in which everyone profits, creates a stronger community and a stronger workforce in which people have the resources to better themselves.
Inclusive growth is how we all win.
Resilience
Many of us know that inclusive growth is important, but what's equally important is the diversification of our energy economies in ways that will make our cities resilient and able to recover quickly from difficulties. As mayors of energy cities and members of the WECP, we should make every effort to ensure that our economies are resilient to unexpected economic and environmental changes.
A few weeks ago, I had the privilege of meeting with the Mayor of Villahermosa in Houston. Villahermosa and its immediate surrounding region are responsible for more than 90 percent of Mexico's entire oil and gas production. Villahermosa's new mayor and my friend Gerardo Gaudiano has renewed his city's commitment to the World Energy Cities Partnership. Why? He – like me and all of us – wants to benefit from the exchange of ideas that lead to strengthening resilience in a city's economy in a way that benefits the people, regardless of downturns in particular sectors.
When I was sworn into office as Mayor of Houston, the fourth-largest city in the U.S., I assumed responsibility for 2.2 million residents from all over the world and another 4 million more that are affected by our policies. Like many of you, I inherited challenges that our national governments leave to mayors. There will always be a need for a construction project to repair infrastructure. There are always more roads to repair. Investing in the people in my community and providing opportunities that lead to our shared success – these efforts have to include the energy sector, the core of Houston's economy. So, when the energy sector faltered, it undoubtedly affected my ability to provide these investments.
But the effects of this oil price slump are nothing like what our city experienced in the 1980s when Houston was completely dependent on the price of oil. At that time, one in eight people in the city lost their job, more than 200,000 homes were unoccupied, and millions of dollars in construction projects had to be abandoned. When energy and construction loans lost value, it affected the banking sector as well. 
In the 1980s Houston's energy-dependent economy was not resilient. There's no doubt about it; my city's economy was hit in a way that we were not prepared to handle. We had no diversification, so the recession had an exponential effect on the economy.
Since then, Houston has faced other unexpected changes – major natural disasters like Tropical Storm Allison in our own area and displacement of thousands of families caused by Hurricane Katrina in the nearby city of New Orleans years ago; a tanker fire and fuel spill that occurred just two months ago and caused the Houston Ship Channel to shut down for almost a day; or the ripple effect of the economic downturn on other industries, such as transportation and professional services. 
Mayors don't like to talk about our cities' missteps, but I do.  That's how we learn. We learn from trying to adapt best practices and studying the worst practices so that we don't repeat them. The people of Houston, including me, have learned something from these mistakes. We've learned the importance of economic diversification that allows our city to be resilient. And, we've learned how to prepare for disasters so that our city can be resilient.
I'll be honest with you. Today, Houston still feels the effects of the downturn in oil prices or a slump in gas prices, but the effects are nothing like the impact that we saw in the 1980s. As a result of increasing diversification within Houston's economy, including within the energy sector, and greater disaster preparedness, Houston is more resilient today than it's ever been. Today, we are able to recover and spring back into action. 
As leaders of cities, we must first support innovation and then look to integrate that innovation into our strategies to make our cities more resilient. Our cities must be able to withstand the acute changes in our environments caused by disasters of our own making or Mother Nature's; changes in social trends; and recessions in the global economy.
A few of the cities in this room belong to organizations that promote resilience strategies for cities. It's just as important for the World Energy Cities Partnership to address resilience as a part of our exchange of ideas and development of new ways of thinking about our urban challenges. In this context, the Partnership can be a forum where we specifically discuss resilience strategies to protect the economies of energy cities. This is the right place for us to share examples from cities that have built on the innovations and success of the oil and gas industry to diversify their economies, insulating their economies from the shockwaves that could otherwise devastate a city.
Conclusion

There are hundreds of interesting international organizations involving cities and collaboration. What makes the World Energy Cities Partnership special is the linkage between the energy industry and municipal government.
The Partnership is empowering our energy cities to address the world's increasing energy demands through innovation, inclusive growth, and resilience. Our cities will innovate and develop policies that foster that innovation. As we innovate and develop new ways of addressing the world's problems, this sector will prosper and the people of the cities will prosper alongside it. And when we face trouble – because we all do from time to time – we may stumble, but we won't fall down. Our resilience will also help us to bounce back when challenged.
Innovation. Inclusive growth. Resilience. These are important for us to embrace in the Partnership, and they are critical to the success of our energy cities.
The world still needs energy. And our cities – all nineteen of us – will be the ones to provide it. Thank you.