The Mayor's Office of Cultural Affairs Awards $62,500 to Projects Amplifying Artistic Creativity and Innovation
August 18, 2023 -- The City of Houston Mayor's Office of Cultural Affairs (MOCA) is awarding $62,500 in grants to 25 individuals and nonprofit organizations for specific programs that amplify artistic creativity and innovation taking place in the City of Houston.
"Houston artists and their projects have once again shown why this city is an arts mecca," says Mayor Sylvester Turner. "I congratulate them on their awards and wish them well in creating their works for Houstonians and the public to see and experience."
The funds were awarded through Let Creativity Happen!, a competitive grant program that is administered by Houston Arts Alliance (HAA) and funded by a portion of the city's Hotel Occupancy Tax (HOT). The program offers three rounds of application cycles this year and encourages artists, creative individuals, and organizations to take creative risks that may not qualify for more traditional funding opportunities. Awards support innovative ideas that redefine artistic boundaries, reshape the conversation about art and art experiences, and/or establish unique opportunities to experience art.
The first round of the 2023 Let Creativity Happen! grantees will create the following work:
Jean Shon: Within
"My project is an interdisciplinary installation and conversation with the local community focusing on the history, preservation, loss, repair, and engagement of The Settlement District in Texas City. The installation will be on view at Sabine Street Gallery at Sawyer Yards from November 16, 2023-January 6, 2024. There will be an opening reception on November 16, 2023, from 5 - 8 p.m., with an artist talk at 7 p.m."
Norma Thomas: Shine
"The highlight of the Acres Homes Holiday Season is the Annual Tree Lighting Ceremony held at the HPD North Sub-Station, the first Saturday in December. Upon taking leadership of the Tree Lighting Performance Stage in 2022, Thomas envisioned an opportunity to not only unify the community but honor and propagate its culture, taking the next step toward providing representation of all cultures now co-existing there.
COMPASSIONATE HOUSTON INC: Compassion Through the Arts
"Compassionate Houston's Compassion Through the Arts Initiative will host an event celebrating 10 Houston-based artists from diverse backgrounds whose work exemplifies a high level of artistic expression of compassion. The event location is at Alta Arts on Saturday, November 11, 2023, aligning with World Kindness Day (November 13th, 2023). The artists will be available to directly engage with event attendees to reflect on how compassion informs their art and to offer visual arts exhibitions, musical performances, and poetry readings. This event will be a paid, ticketed event that is open to the public."
Cressandra Thibodeaux: Double Take - Portraits of My Mother
"Double Take - Portraits of My Mother is a Digital Photographic exhibition with live activations (talkbacks with the Artist). The portraits explore the notions of aging and coming to terms with my mom's mortality."
Brenda Palestina: Cloud Tectonics by José Rivera
"Cloud Tectonics is a magical realism play about Celestina, a woman who exists beyond the bounds of time, who serendipitously meets an unlikely friend, Aníbal, during a once-in-a-lifetime storm in Los Angeles. Amidst environmental and political turmoil, they come to love each other in the safety of Aníbal's home. Brenda Palestina and A.G. Perez, two emerging Latine artists, are producing the play in collaboration with ConcertiaHTX - an arts organization that empowers social causes to connect communities and provide support for emerging artists. The production will be held at MATCH from September 7–10, 2023.
C G JUNG EDUCATIONAL CENTER OF HOUSTON TEXAS: Digital Programming for Arts-Based Mental Health Support
The Jung Center offers a wide range of interactive arts programming to the public in three semesters throughout the year. Programs are led by a variety of instructors using the arts to support the mental health of our community.
Dawn Reavis Martin: Film Project. All For You
"More and more of us are faced with the challenges of caring for our aging parents and family members. My short film, All for You, will explore such challenges in an artful way. It will encourage families to have important discussions about what to do when our elderly loved ones can no longer live the independent lives they desire."
Franchelle Lucas: The Mississippi Project
"My proposed project is a modern response to Nina Simone's "Mississippi Goddam" featuring rapper Scarface, produced, and recorded at Wonky Power Studios. The project aims to continue Nina Simone's legacy by revisiting her powerful protest song "Mississippi Goddam" and creating a modern response to address current social and political issues. Through this collaboration, the project seeks to inspire and mobilize audiences to take action towards social justice and equality, in line with Nina Simone's lifelong activism."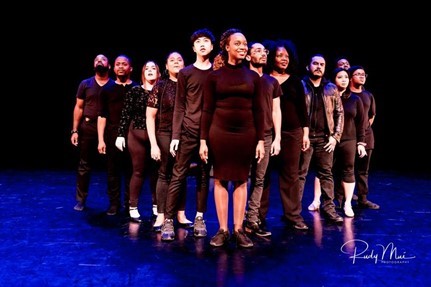 Shabach Enterprise: Shabach Enterprise's, The Flow
In 2019 Shabach Enterprise premiered it first rendering of "The Flow", an exciting theatrical production of monologues written by African American playwrights. The performance produced the works of approximately 20 local and national playwrights and cast of 12 BIPOC artists from within our city. With a new collection of amazing monologues, we will host our 2nd season of this work September 1-3, 2023, at MATCH Houston. Performances shall run at 8 p.m. on Fri/Sat with a 3 p.m. matinee on Sun.
FRAME DANCE PRODUCTIONS: Exercising Creativity: A Path to Making Work
Frame Dance is committed to helping everyone tap into their unique ability to create. Our programming offers participants the opportunity to immerse themselves in Houston's local arts by viewing and discussing works by local artists, experiment with multiple art forms through three creativity workshops, and join a supportive community for making and getting feedback work: The Frame Dance Creativity Work Group.
Silambam Houston: YUVA Emerging Choreographer Showcase
Curated and presented by Silambam Houston, the YUVA Festival is a unique platform that catalyzes creative collaboration among young talented Indian classical artists (dance, music, and other genres) from across the country, and encourages them to 'find their artistic voice'. YUVA Artists, selected from an applicant pool, are provided resources (space, time, mentoring, and limited funding) to create new collaborative artistic works for presentation at The YUVA Festival in September.
José Hernández López: Volatile Signaling - Exploring Ecological Communication in Plants and Humans
Volatile Signaling" is a thought-provoking performance in November 2023, delving into plant intelligence and inter-species relationships to explore lessons for stewarding Houston's ecological future. Set at Eden Plant Co. in Houston's Historic East End & Second Ward, the event combines live singing, wearable music technology SOMI-1 bands, and a focus on the city's rich ecological history. With simultaneous livestreams across social media platforms and websites, the performance fosters a dialogue on our responsibility to nurture and balance Houston's unique environmental legacy.
HOUSTON CHAMBER CHOIR: Houston Chamber Choir's "With One Accord" Video Podcast Series, Season 4
The Houston Chamber Choir is excited to hit the road and travel throughout the community as we take an illuminating musical journey with With One Accord, Season 4. As we continue to showcase the captivating true stories and experiences of music-makers in performance and education, our episodes will now feature a more personal touch, with face-to-face, in-person interactions. We're presenting documentary-style episodes for Education Spotlight, profiling local and national choral educators and scholars; Behind the Music feat. St. John Flynn will now be recorded in front of a live audience, "unboxed" and unhindered by Zoom.
PXRTY ENTERTAINMENT: Chakras Interactive Museum
Chakras Interactive Museum is a unique artist showcase honoring energy, spirituality, and creativity. The interactive museum will feature a fashion show, live artists (including painters, jewelers, designers, dancers, potters and more) and a non-stop immersive, creative experience. We will host this at Sanman Studios on November 11, 2023, from 2 pm-10 pm to celebrate black art, life, and creativity. We will incorporate live music performances, local vendors, and free admission for all to enjoy.
Ruth Pilarte: Historic People of Houston
This Digital Project will focus on the life and influence of Dr. Johnnie Carter, the longest-serving educator in HISD. Dr. Carter has served HISD since the days the district practiced segregation.
Amar Monroe: The Review Room
The Review Room encourages and introduces a non-exclusionary culture that prioritizes intentional artist development. For the first time, made especially for Houston, I will host my music review show live and in person for both artists, fans of the Houston arts, and tourists who want a behind the scenes peek at the creative process. The event is scheduled to take place on August 31, 2023, at iMix Studios hosted by Amar Monroe and notable Houston producer and engineer, Bruce Bang as a Guest Reviewer/Speaker.
Stevens Orozco: Archivist Log
Archivist Log is a growing collection of filmed conversations (55 minutes or less) with a diverse range of community members. This collection includes artists, scholars, writers, critics, business owners, and more. This project is curated, filmed, and edited with an artistic intention for a visually pleasing experience.
Elizabeth Spencer: Houston's Women in Music: A concert series written for women by women
We are three Houston based classically trained musicians looking to spread the repertoire written by female composers, who are often overlooked in favor of their male counterparts. Our recital features the works of four women composers of classical music. Preceding the recital itself, we will host a pre-recital talk where attendees can learn more about our mission, the composers and their music, and our experience with this project. Our project involves taking risks in exploring the complex and often controversial topic of gender and identity. Our program will consist of piano, viola, and cello works from the composers Clara Schumann, Rebecca Clark, Nadia Boulanger, and Florence Price.
Stanley Mays: "MYOB: Houston" Web Series Pilot Show
"'MYOB: HOUSTON' is a comedy web series conceived, set and produced in Houston with an all-Houston cast, crew and celebrity guest stars, put on YouTube for Houstonians and the world to enjoy for free. It's a parody of all the CSI, NCIS, FBI shows that cram network tv channels night after night. Why are none of these shows set in Houston, the third largest city in America?!!! Let's fix that! In our pilot episode, the MYOB squad is investigating a huge, hairy case, the "Houston Beard Conspiracy.
Aaron Garrett: Start Your Endings: A New Sketch Show
Start Your Endings is a new dramatic work, by a Houston playwright, which challenges the idea of what sketch comedy can look like. Through twelve distinct stories we look at what it means to confront leaving what you know and embrace what the future can hold, and craft affecting moments while not abandoning a comedic viewpoint.
Alyssa Benjamin: "Journey towards Nigrescence"
Nigrescence is a term that refers to the process of rediscovering one's blackness. "Journey towards Nigrescence" is a project that seeks to explore the process by capturing the stages of my Nigrescence as experienced growing up in Houston, Tx.
Danny Asberry El: Earthstars Children of Paradise Comic Book
Introducing the Earthstars: Children of Paradise project - an innovative approach to comic book storytelling that promotes emerging local artists and explores complex themes, challenging traditional tropes and expanding the medium's potential. By fostering cultural exchange and dialogue among artists, collectors, and the broader community, the project strengthens Houston's creative ecosystem and reflects the city's unique identity and culture. Join us on a journey of inclusivity and shared ownership of Houston's creative legacy, positioning the city as a cutting-edge arts and culture destination.
Edward Preston: DEAR, ARTIST
Join us on September 2nd, 2023, for "Dear, Artist," an interactive experience celebrating the use of art as a creative outlet Labor Day weekend! "Dear, Artist" is geared toward individuals from ages 9 to adults living in Houston. Events are created to include Deaf & Hard of Hearing individuals as well. Our collective of Teaching Artists will inspire and influence the creative mind in everyone, using education as a means of changing perceptions and promoting cultural diversity in education.
Dana Caldera: Material World
Material World' is a site-specific installation that will be on view in Box13 ArtSpace's Window Box Gallery in November 2023. The artwork on view is made from discarded paper and textiles that are donated and sourced from the local Houston community. Since the Window Box Gallery remains on view 24 hours a day, it acts as a public art space, allowing protected yet accessible viewing for this delicate collage artwork.
Laura Jane Jones: Laura Jane Vocal Performance and Recording Workshop
Laura Jane Jones will lead a vocal performance workshop dedicated to working on the anatomy of the voice, better technique, performing and interpreting a song, helping artists find their voice and become better more intuitive artists. She will also lead a vocal recording workshop with participants who want to learn how to perform and capture their voice in the studio.
About the Mayor's Office of Cultural Affairs
The City of Houston Mayor's Office of Cultural Affairs guides the City's cultural investments with policies and initiatives that expand access to arts and cultural programs in the community, attract visitors and leverage private investment. Learn more at www.houstontx.gov/culturalaffairs and follow us on Facebook & Instagram @HoustonMOCA.
About Houston Arts Alliance
Houston Arts Alliance (HAA) is a local arts and culture organization whose principal work is to implement the City of Houston's vision, values, and goals for its arts grantmaking and civic art investments. HAA's work is conducted through contracts with the City of Houston, overseen by the Mayor's Office of Cultural Affairs. HAA also executes privately funded special projects to meet the needs of the arts community, such as disaster preparation, research on the state of the arts in Houston, and temporary public art projects that energize neighborhoods.
In short, HAA helps artists and nonprofits be bold, productive, and strong.
To learn more about HAA, visit www.houstonartsalliance.com and follow us on Facebook /houstonartsalliance & Instagram @Houstonartsalliance.