Alief Neighborhood Center Open House Showcases City's Newest One-Stop Shop for Array of Services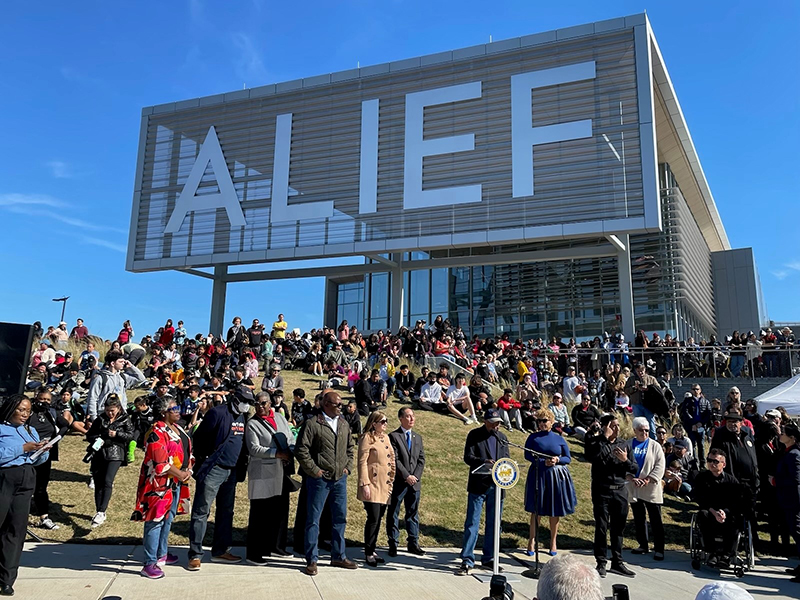 January 14, 2023 -- The City of Houston celebrated the new Alief Neighborhood Center (11903 Bellaire Blvd. Houston, 77072) with an open house event Saturday. The event featured remarks from Mayor Sylvester Turner, Councilmember Tiffany D. Thomas, District F, and other local leaders on the nearly twenty-year development plan to complete this unique project. Hundreds of community members explored the innovative facilities, were invited to register for classes and events, and signed up for My LINK library cards.
Today's grand opening aligns with Mayor Turner's priority to execute and implement in 2023.
"This one-of-a-kind City destination captures the spirit of Alief and will be transformational for this community," said Mayor Sylvester Turner. "The Alief Neighborhood Center is a cutting-edge facility for Houston, designed to meet the needs of this incredibly diverse community. This project has been 20 years in the making, and I am proud of the dedication from my team and the advocacy of neighborhood groups and Alief residents."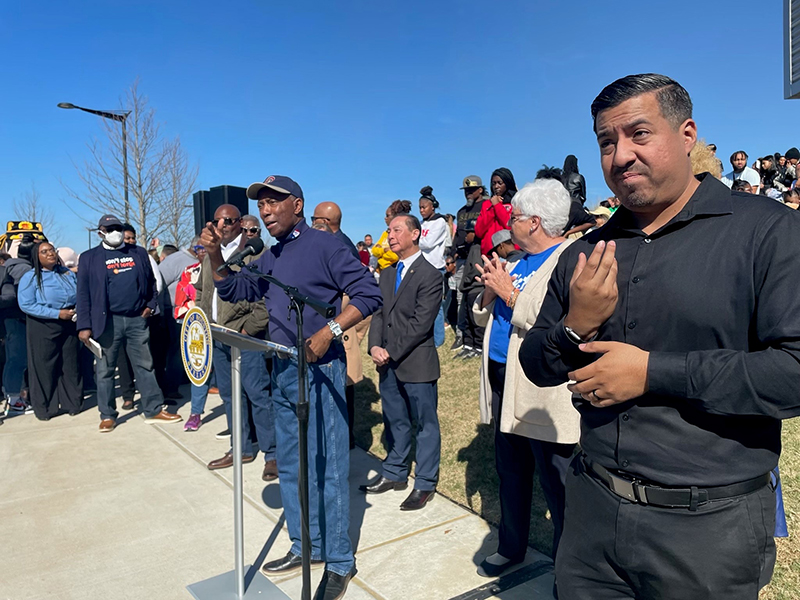 Situated on Alief Park, the new facility is larger and houses three COH Departments: Houston Health Department, Houston Parks and Recreation Department (HPARD) and Houston Public Library (HPL). The City's General Services Department (GSD) managed the 58-million-dollar redevelopment project and will maintain the 70,000 square-foot facility; Page/EYP was the architecture firm that completed the planning and design.
The new park development has an event lawn and game area, a swimming pool, walking paths with distance markers, tennis/pickleball courts, a basketball court, a skatepark, soccer fields, practice field and futsal courts. For the youth, a playground provides opportunities for both physical activity and social interaction. A large climbing net structure and climbing wall will be the first of its kind in HPARD's system. Passive and natural spaces provide a place for the community to unwind along with a community garden and outdoor art. The project design preserved several the mature live oaks and the southwest corner of the site remained in its natural state. HPARD provides enrichment programs for youth, teens and seniors at the center year-round.

Inside the facility, Houston Health Department administers a Women, Infants, and Children (WIC) clinic as well as an expansion of its Diabetes Awareness and Wellness Network (DAWN), providing free diabetes self-management education and other medical resources for Houstonians diagnosed or at risk of diabetes. The department's Harris County Area Agency on Aging will offer comprehensive services for adults age 60 and older, including free meal program, health and wellness classes, arts and crafts and senior resources.
Reopening in the Alief Neighborhood Center, Houston Public Library's David M. Henington Regional Library includes state-of-the-art technology with increased computer services, multiple classrooms available by reservation, a BOOKLINK and 24-hour Book Lockers to conveniently retrieve checked-out items. The new library is larger and upgrades preexisting services such as a Passport Office, Teen's area, and Children's section. The new reading areas benefit from magnificent views and more seating. The Alief facility is the third HPL TECHLink location, providing makerspace equipment and software, fully-equipped video and music recording studios including a greenscreen wall, multimedia services and workshops for all ages.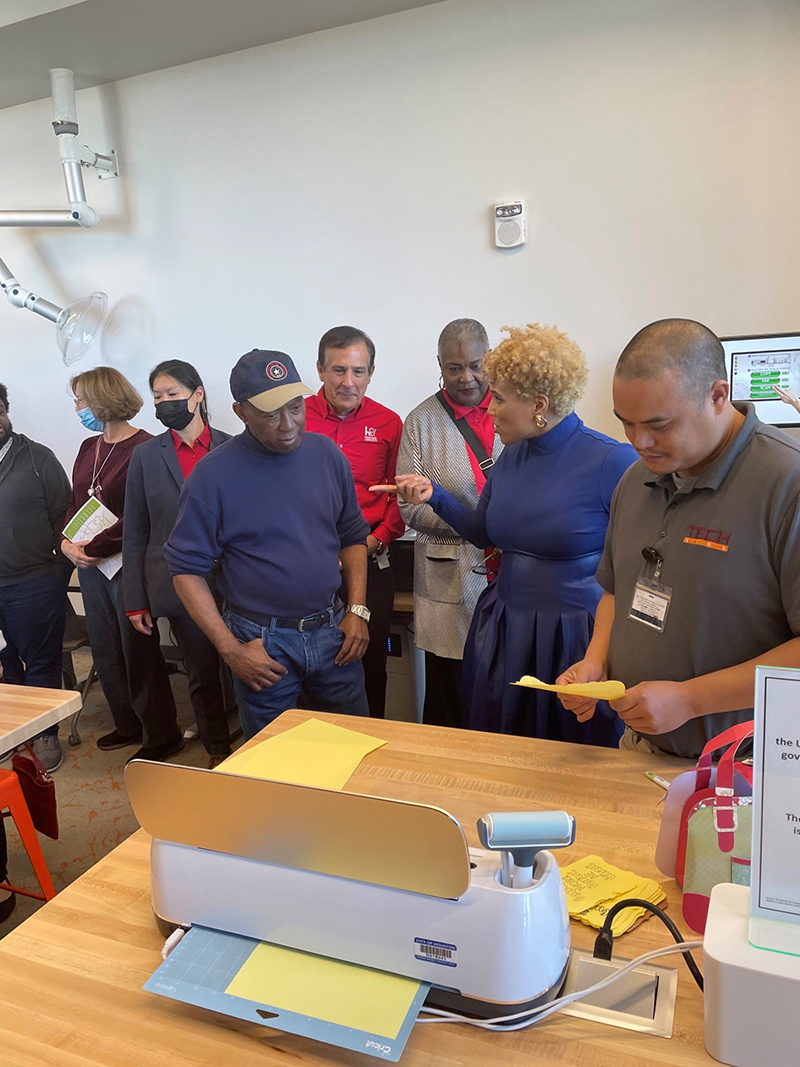 "I am thrilled that Alief now has a one-stop shop for numerous City services! The neighborhood now has an upgraded library with a TECHLink bringing new technology to the area, a health clinic for families, a "stair-a-torium" for gatherings, public art created by local artists, and a beautiful City park with nearly every amenity a City can offer," said Council Member Tiffany Thomas of District F. "The building has magnificent views from every window—whether in the lounge seating, in the teen reading area, the fitness center, or in the indoor walking track, the views are calming and inspiring."
Following the ribbon-cutting and remarks delivered by Mayor Turner, Council Member Thomas, and Congresswoman Lizzie Fletcher, TX-07, Representative Hubert Vo, TX-149, and Barbara Quattro of Super Neighborhood 25, the community was invited to tour new spaces in the building and engage with city employees during the open house event hosted by various city departments. Families and visitors can apply for MY Link library cards; enjoy winter-themed craft activities for all ages and interactive storytimes.
Health department activities included a healthy cooking demonstration by Alief WIC and an exercise class and a community garden tour offered by the DAWN center. AAA presented an overview of its programs and an opportunity to sign up for senior services.
"When the idea was presented to my administration, I said it was time to stop talking and start doing. So, I worked with my team to move the project forward to get built. And today is the culmination of all the ideas, work and community feedback. We did it!" exclaimed Mayor Turner.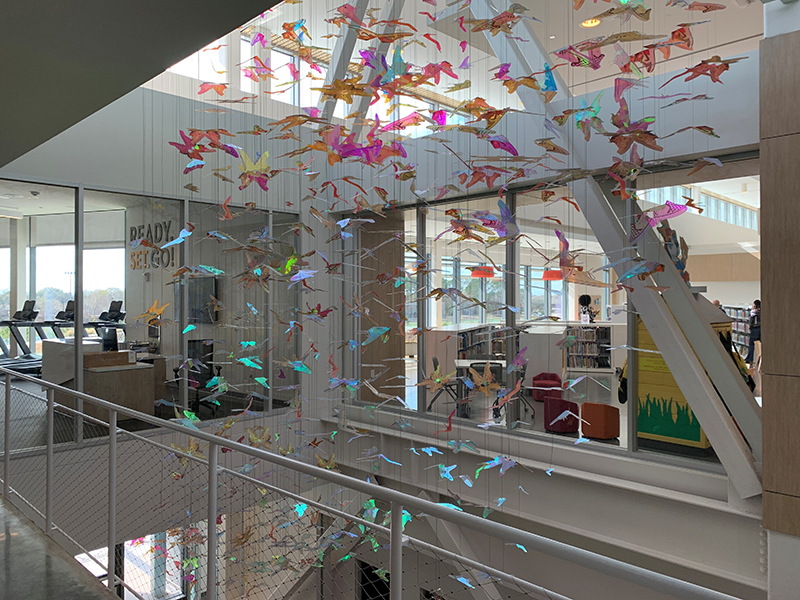 About the Houston Health Department
The Houston Health Department provides core public health and human services to fulfill its vision of self-sufficient individuals and families in safe and healthy communities. It is the second big city health department in the nation and the first city in Texas to achieve public health accreditation.
About the Houston Parks and Recreation Department
The Houston Parks Department's vision is to enhance the quality of urban life by providing safe, well-maintained parks, and offering affordable programming for the community.
About the Houston Public Library
The Houston Public Library (HPL) operates 41 public service units including 27 Neighborhood Libraries, 5 Regional Libraries, 3 History Research Centers, 2 Express Libraries, the HPL Mobile Express, 3 TECHLink locations and a satellite location at the Children's Museum of Houston. Our downtown Houston flagship facility, Central Library, along with the Barbara Bush Literacy Plaza, anchors this constellation of service points. HPL is committed to equitable access to information and programs in an increasingly digital age.