City of Houston Kicks-Off Earth Day HTX
Speaker Series will Continue Tuesday, April 18
April 17, 2023 -- The City of Houston will host Day Two of the Earth Day HTX celebration beginning at 9 a.m., Tuesday, April 18, with discussions on Flood Mitigation, Preparedness and Policy, and the Disproportionality of Climate Change Impact on People with Disabilities.
Mayor Sylvester Turner will host a conversation with Dr. Earthea Nance, U.S. EPA South Central Regional Administrator, on Climate Leadership and building a resilient future for Houston while advancing environmental justice and equity. The day will conclude with a free reception open to everyone. For a complete list of speakers and events, click here.
On Monday morning, Mayor Sylvester Turner joined climate and environmental experts to kick off the three-day Houston Earth Day HTX, the largest Earth Day event in the City's history. Monday's agenda featured expert panels on Transportation 101, Houston's Water Future, Charging Infrastructure: The Future of E-Mobility in Houston Community Resilience, the Houston Recycling Collaborative, and more.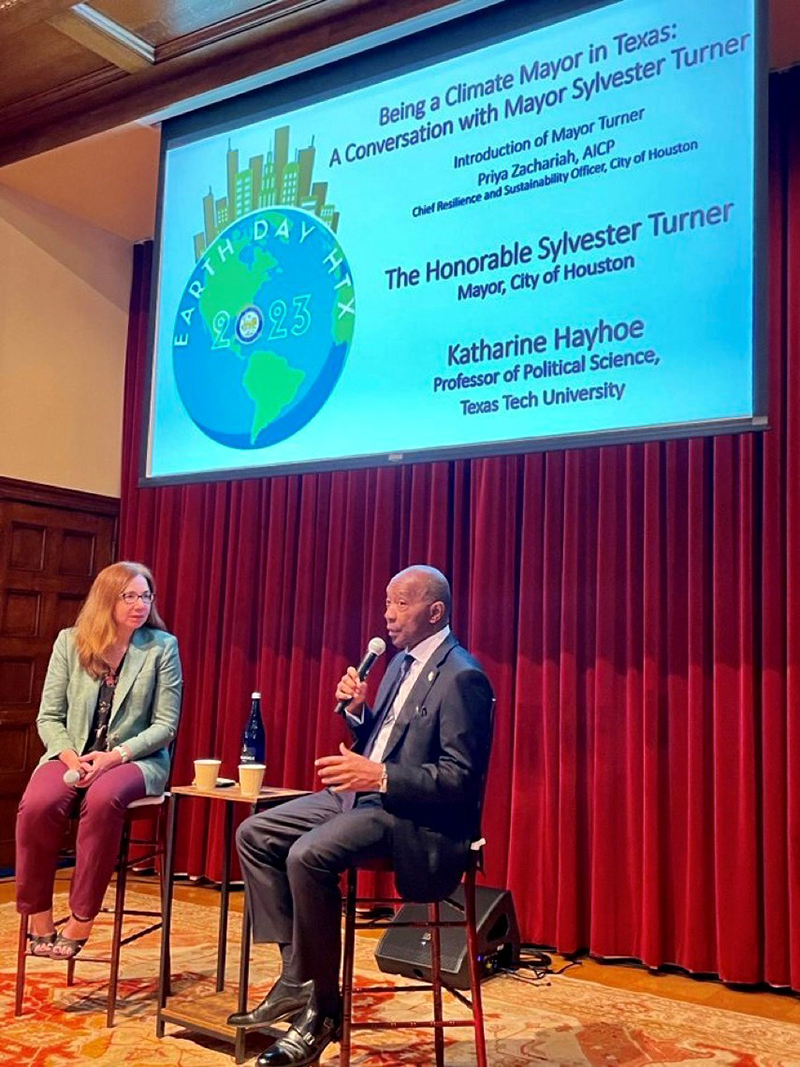 "We are adapting Houston to climate change by raising buildings, increasing detention, and promoting green stormwater infrastructure, developing community resilience hubs, weatherizing homes, and distributing energy resources. We must adapt and strengthen our communities, streets, and homes and reduce carbon emissions. And as we strive for resilience and sustainability, equity and environmental justice – speaking up for the most vulnerable – must be at the heart of everything we do," said Mayor Turner.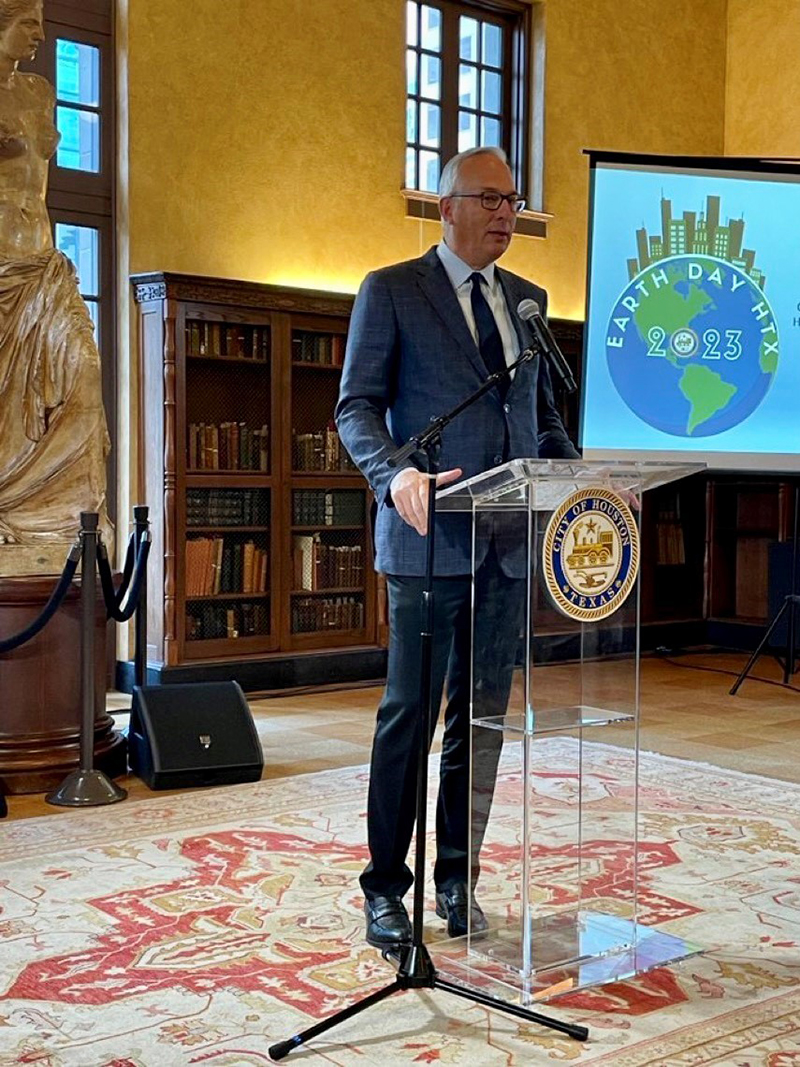 "We have both a responsibility and opportunity to be the global leader of the energy transition," said Tudor. "Texas is currently the largest producer of wind energy in America, the second largest producer of solar energy, and the largest producer of bioenergy in America. These are three areas of great importance to the energy transition. I am confident that if the public and private sectors, our academic institutions, and our not-for-profit institutions, we can do this in a way that will work great for Houston, our economic prosperity, and the world."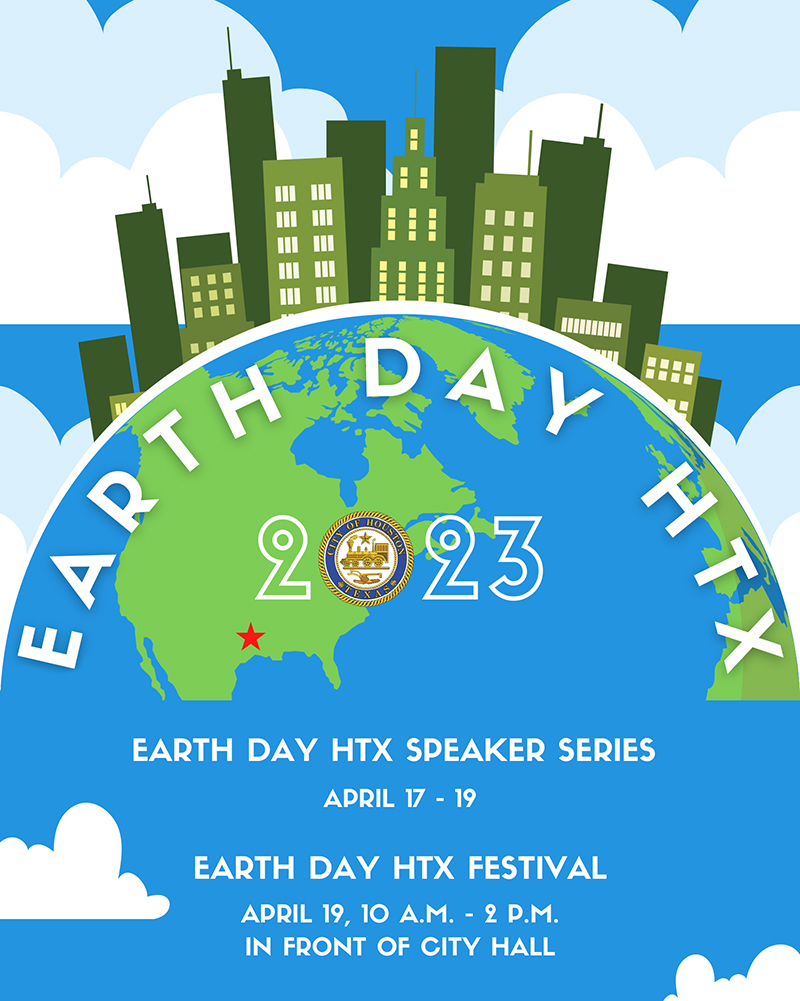 On Wednesday, April 19, Mayor Turner invites the public to join him, city departments, and other city-partnered organizations in front of city hall from 10 a.m. - 2 p.m. for the Earth Day HTX festival featuring demonstrations, hands-on activities, displays, food, information, and interactive booths showcasing city initiatives highlighting a cleaner, greener Houston.
Along with a vibrant speaker series from April 17-19, Earth Day HTX 2023 promises to be the most exciting and informative Earth Day event ever presented by the City of Houston.