Day Two: Mayor's Mission to Brazil Includes Government Engagement and Focus on Building Business Partnerships
April 25, 2023 -- Mayor Sylvester Turner accepted a key to the city of Rio de Janeiro and voiced support for the Anti-Racist Cities Network during a cordial and productive meeting with Rio's Mayor, the Honorable Eduardo da Costa Paes. The City of Rio de Janeiro, Brazil, will partner with other cities later this week to launch the Anti-Racist Cities Network, advancing municipal collaboration to help dismantle systemic, structural, and institutional racism.
During the visit with Mayor da Costa Paes, the city leaders discussed education, technology, innovation, and urban resilience and sustainability. Rio de Janeiro has the second largest municipal GDP in Brazil, and the city is the headquarters of Brazilian oil, mining, and telecommunications companies, including two of the country's major corporations, Petrobras and Vale. Mayor Turner invited his fellow mayor to visit the City of Houston in the near future and a contingent from Brazil will be in Houston during the Offshore Technology Conference (OTC) next week. As Chair of the Resilience Cities Network, Mayor Turner also invited Mayor Paes to join the RCN Board of Directors and the World Energy Cities Partnership.
Mayor Turner, the Greater Houston Partnership (GHP), and the Brazil Texas Chamber of Commerce (BRATECC) are on a trade and investment mission in Brazil. Representatives from Port Houston and the Houston Airport System are also in the delegation.
The mission is focused on reinforcing Houston's relationship with key allies, promoting Houston as a global city, and establishing new avenues for cooperation and investment in energy, manufacturing, technology, and port exchange.
Also on Tuesday, Mayor Turner visited with the Honorable Claudio Bomfim de Castro e Silva, Governor of Rio de Janeiro, and members of his cabinet. The parties discussed their mutual interest and focus on energy transition, carbon capture, hydrogen, OTC, and how ports and infrastructure are critical to both regions' economies.
Mayor Turner presented the Governor with a City of Houston medallion.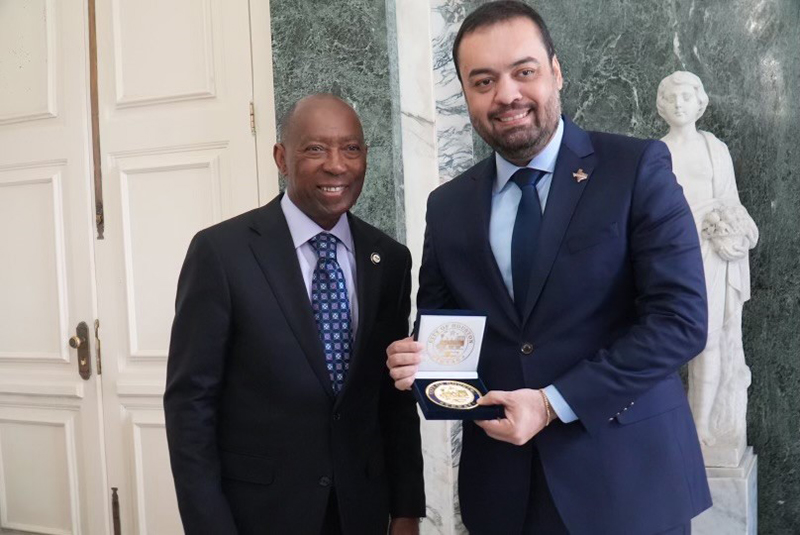 "Our work in Brazil over two days is showing incredible promise to strengthen relationships as we build economic, political, and cultural opportunities," said Mayor Turner. "Brazil is Houston's fourth-largest trading partner, and Houston is the busiest gateway for US-Brazil trade, valued at $22 billion in 2022. It is in the City of Houston's best interest to remain connected with our partners in Latin America."
Tuesday's schedule concluded with additional business meetings, including discussions at Radix. The privately-held company maintains its U.S. Headquarters in Houston and develops projects in more than 15 countries. The conversation focused on increased business relationships and opportunities with Houston-area companies.
Formal meetings on Tuesday will end with a meeting at the Brazilian National Agency of Petroleum, Natural Gas and Biofuels (ANP).
"We are interested in understanding how we can help ANP better engage with Houston - area energy companies and how the City of Houston can better promote and encourage engagement in the Brazilian energy sector," said Mayor Turner.