City of Houston Unveils Re-imagined City Hall Basement with Sustainability, Efficiency, Resiliency and Innovation in Mind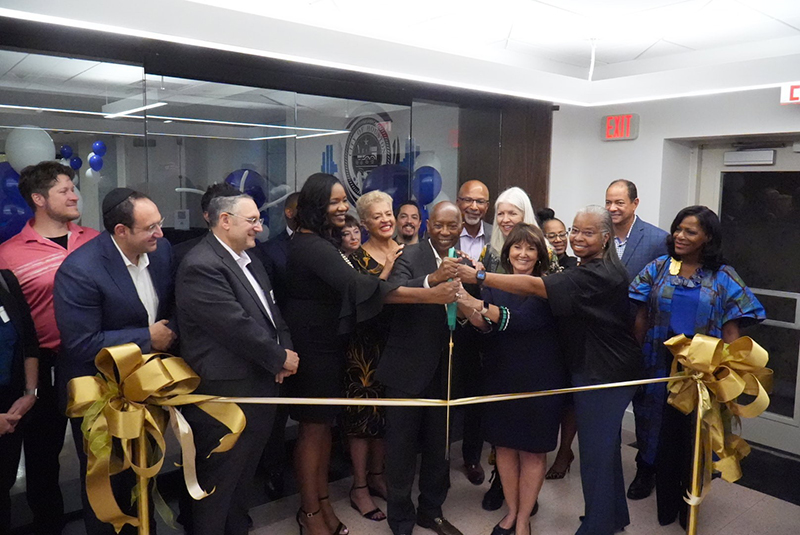 September 15, 2023 -- Mayor Turner, city officials, construction and wellness partners, employees and more gathered to celebrate a significant milestone today with the unveiling of the newly renovated City Hall basement.
The $4.4 million renovation project began as a response to the devastation caused by Hurricane Harvey when floodwaters left 18-20 inches of water in the basement.
The City then immediately began FEMA's three-phase process, which included emergency work, permanent repair, replacement, and mitigation. FEMA approval was granted in December 2017, with construction beginning in 2020.
After the initial contractor was terminated in 2022, after being declared in default under their contract with the City of Houston construction resumed in January 2023 with contractor Dunhill Construction.
The re-imagined space is now equipped with conference rooms, training facilities, a wellness center, generously donated by Cigna, and more, all designed with sustainability, efficiency, preservation and resiliency in mind.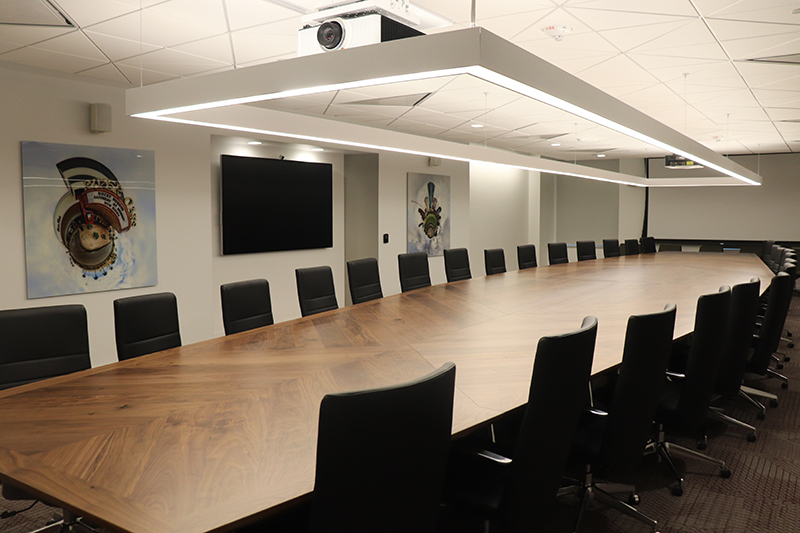 Furnishings and finishes were carefully selected to prioritize sustainability and comfort, reflecting a commitment to minimizing the environmental footprint. The renovation also improved air quality by replacing aging air handling units with more efficient systems.
The renovation also preserved historic finishes, incorporated LED lighting with occupancy sensors, and introduced natural light, all contributing to a sustainable and energy-efficient environment. One of the remarkable features of this renovation is the installation of a massive sliding flood gate and flood door to mitigate future flood damage.
Adorning the walls of the reimagined space are 18 stunning pieces of artwork by artists such as Mark Chen, Syd Moen, Nancy Newberry, and David Reinfeld. Each piece is a unique ode to Houston, capturing the city's essence and spirit.
In addition to these lens-based artworks, the renovation effort included the conservation, reframing, and rehanging of 49 portraits of former mayors saved during Hurricane Harvey by a City of Houston employee.
"The City Hall Basement renovation is a testament to the resilient spirit of Houston," said Mayor Sylvester Turner. "We encountered some challenges, but we've revitalized this space while preserving our history and embracing innovation. This space truly embodies our commitment to a sustainable future. "The eco-friendly space will also house the City's first walk in 311 center.
This is the first time Houston 311 customers will have the ability to walk-in and create a case or receive an update to an existing service request. This location is part of 311's Continuity of Operations Plan (COOP) and will serve as a secondary location in the event the main call center fails.
While the basement is substantially complete, a few areas, including additional training facilities, the mayor's dining room and kitchen are set for completion November 2023.