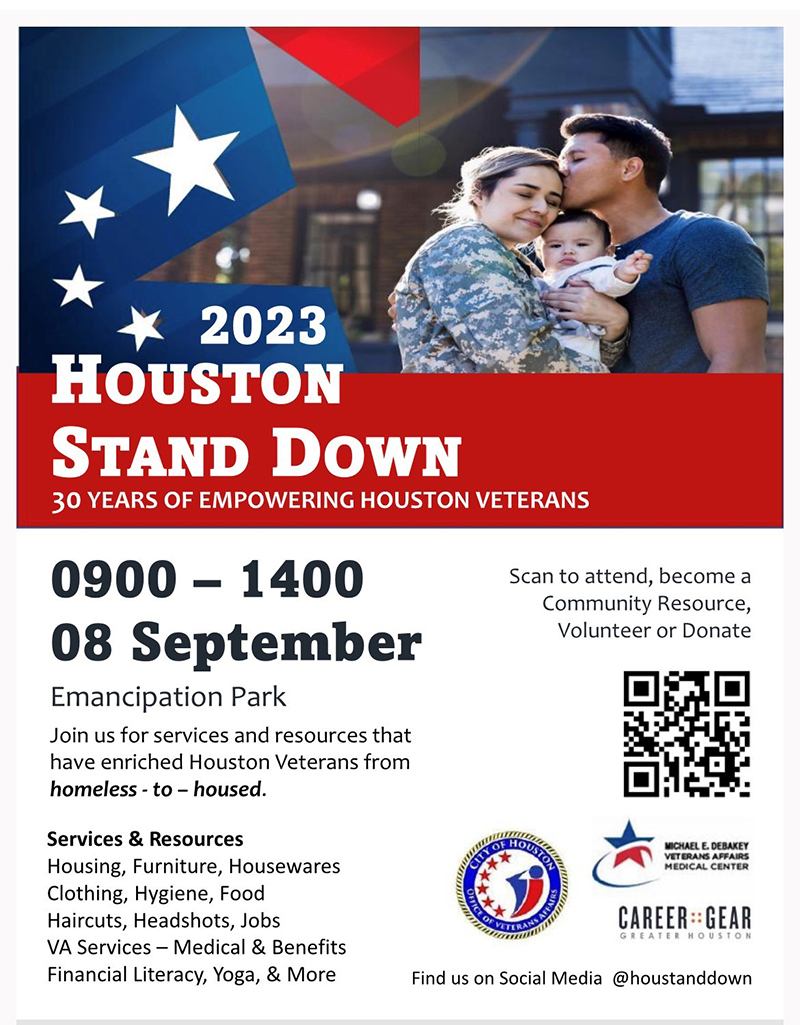 City Invites Veterans and Active Duty Military to the 2023 Houston Stand Down
September 5, 2023 -- The City of Houston's Office of Veterans and Military Affairs is partnering with local organizations and community members to host the 2023 Houston Stand Down to assist the men and women who have served our country.
The free event will provide services and resources for Houston area veterans and active military members.
The 2023 Houston Stand Down Fair
Friday, September 8th
Emancipation Park
9 a.m. – 2 p.m.
Houston veterans and active military members will learn about employment opportunities, housing options, along with resources for furniture, clothing, hygiene products, food, and haircuts. There also will be financial literacy and medical services on site.
"Houston is home to one of the largest populations of veterans in the nation with more than an estimated 300,000 veterans," said Mayor Sylvester Turner. "It is our duty and honor to ensure they have the resources to thrive as Houstonians while providing for their families."
The City of Houston Mayor's Office of Veterans & Military Affairs advocates for active duty, guard/reserves, veterans, and the larger military-affiliated community (Spouse/Caregiver and dependent children) and coordinates access to resources through federal, state and local initiatives and programs.
Some of the 88 participating vendors include:
VA Regional Office
VA Medical Center
U.S. VETS
Goodwill Houston
Family Services Houston
Texas Veterans Commission
Career Gear Houston
Dress For Success Houston
Habitat For Humanity
Humane Society
Impact Hero
Vet Center
Salvation Army
American GI Forum
American Legion
Veterans Of Foreign Wars
Disabled American Veterans