>
Office of Business Opportunity
>
Management Team
> Kellie Irving
Office of Business Opportunity
Kellie Irving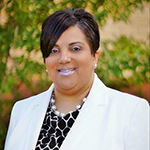 Kellie S. Irving is the Deputy Assistant Director for the City of Houston - Houston Airport System's Office of Business Opportunity.
Kellie has committed her professional career to civil rights programming including diversity, equity, and inclusion. She has worked in various positions overseeing and monitoring small business utilization, accessibility, and equal opportunity in both the public and private sector. Kellie has experienced small business ownership serving as Principal Consultant for a boutique consulting company - Taylor Sloane and Associates.  At Taylor Sloane, she consulted on diversity programs, affirmative action plans, proposals, grants, and government relations. She has provided services for PDA Consulting Group, LLC, University of California-Riverside, Hathaway Dinwiddie Construction Company, USC Village, Caltrans, and West Basin Water District. Kellie worked in diversity programming for Blue Cross and Blue Shield of Louisiana, LA Metro, City of Los Angeles and Augusta, Georgia Consolidated Government.
A self-proclaimed Inclusionista, Kellie looks forward to enhancing efforts to further Houston Airport System's engagement and contracting success with our region's MWSDBEs and ACDBEs ensuring they are a part of smart CONNECT initiatives for years to come.