>
Office of Business Opportunity
> Virtual Legal Lab Day in Houston
Office of Business Opportunity
Virtual Legal Lab Day in Houston
Mayor announces partnership with Vinson & Elkins and APBCo
City of Houston announces partnership with the Association of Pro Bono Counsel and Vinson & Elkins, on "Virtual Legal Lab" for Small Businesses
Organizations partner to provide innovative and first of its kind legal resource for small businesses
October 14, 2015 --  Obtaining legal advice for small businesses can be costly and stressful. The City of Houston's Office of Business Opportunity announced a partnership with the Association of Pro Bono Counsel (APBCo), Vinson & Elkins, LLP, and community organizations to establish the "Virtual Legal Lab". The Virtual Legal Lab is the first of its kind, giving small businesses the opportunity to schedule one-on-one Skype sessions with pro-bono attorneys for any business related questions they may have. This Legal Lab will be housed within the Office of Business Opportunity, located downtown at 611 Walker, Lobby Level. The Legal Lab will be hosted twice a month with the first being Wednesday, October 28th from 2pm-5pm.
"Small businesses face an array of legal concerns," said Mayor Annise Parker. "It is important that these companies have an opportunity to sit with trustworthy legal experts that can point them in the right direction. We are so pleased that Houston's legal community is willing to step up and provide free legal advice and services that small businesses are often unable to afford."
"We are pleased to be able to expand our pro bono efforts in Houston to include small businesses by using today's technology. More attorneys will be able to help those who otherwise might not be able to have access to lawyers. At V&E, we believe that giving our time and expertise to those in need, is both an obligation and a privilege of our profession." stated T. Mark Kelly, V&E Chairman.
"The Office of Business Opportunity is pleased to continue our partnership with Vinson & Elkins and the Association of Pro Bono Counsel," said Carlecia D. Wright, Director, Office of Business Opportunity. "We are always looking for additional ways to provide our businesses with the resources they need to be successful and obtaining sound legal advice is an essential part of it."
Small businesses can ask questions on a variety of topics including employment law basics, independent contractor vs. employee, insurance and contracts, and entity selection. The Virtual Legal Lab will be hosted on the following dates:
October 28, 2015
November 18, 2015
December 9, 2015
December 16, 2015
Future dates to be determined. Each time slot is first come, first served. Attorneys are also available to speak to small businesses in Spanish and Chinese.
The Virtual Legal Lab is brought to you by The City of Houston's Office of Business Opportunity, APBCo in partnership with Texas C-Bar, and Vinson & Elkins. To make an appointment for the Virtual Legal Lab or for more information, please go to www.houstontx.gov/obo and click on Virtual Legal Lab.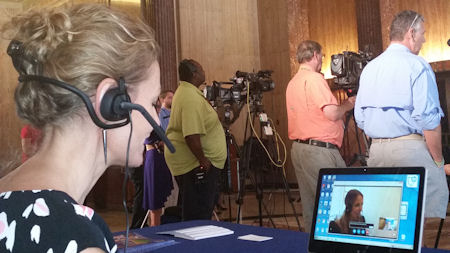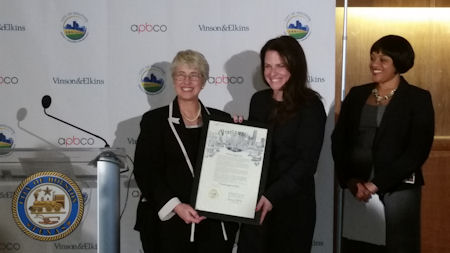 ABOUT THE OFFICE OF BUSINESS OPPORTUNITY
The City of Houston's Office of Business Opportunity (OBO) is committed to creating a competitive and diverse business environment in the City of Houston by promoting the growth and success of local and small businesses through a wide range of services from startup business assistance to certification for established businesses seeking contract opportunities with the City. Through OBO's Houston Business Solutions Center, we provide resources that help with the start-up, sustainability, and growth of businesses. For more information about the Office of Business Opportunity and our suite of services, please visit www.houstontx.gov/obo or call 832.393.0600.
ABOUT THE ASSOCIATION OF PRO BONO COUNSEL (APBCo)
The Association of Pro Bono Counsel (APBCo) is a professional organization for attorneys and practice group managers who run a law firm pro bono practice on a full-time basis. APBCo's mission is to maximize access to justice through the delivery of pro bono legal services. The Small Business Legal Academy, an idea inspired by a meeting with the board of APBCo and Vice President Biden, is one of many projects developed to broaden collaboration among law firms, legal service providers and government organizations to enhance the access to justice for those who are unable to navigate complicated legal issues.
ABOUT VINSON & ELKINS
Vinson & Elkins lawyers are committed to excellence and steeped in the energy and finance industries, offering clients experience handling transactions, investments, projects and disputes worldwide. The firm's deep bench of approximately 700 lawyers collaborating across 15 offices allows a multi-disciplinary approach and innovative strategies, whether companies need guidance on complex transactions or litigation. V&E is deeply committed to empowering its communities through pro bono work for the underserved, and by supporting local charitable, educational and cultural organizations.