HPARD
> After-School Achievement Program (A.S.A.P.)
After-School Achievement Program (A.S.A.P.)
ABOUT A.S.A.P.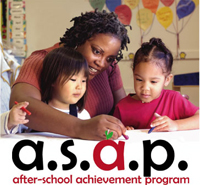 The Mayor's After-School Achievement Program (ASAP) was created in 1997 to engage Houston youth in structured, supervised after school activities to reduce juvenile crime and victimization. In 2004, the program moved under the administration of the Houston Parks and Recreation Department. During this transition, new program guidelines were implemented and enforced to ensure contract compliance and provide technical assistance.
Through ASAP, the City of Houston funds schools and non-profit agencies to provide after-school programming for elementary through middle school age youth serving a minimum of 20 children per site Monday-Friday, at least 2 1/2 hours daily, generally between 3:00 to 6:00 p.m., with the opportunity to provide full day extended summer learning programs during the month of June. All ASAP sites are required to provide $10,000 Cash Matching funds and $10,000 in-kind contributions toward the program. Matching funds are typically used to fund snacks, transportation, field trips, and special events.
Programming must be provided for a minimum of 20 children per site, at least five days per week. Funded schools and organizations set their own curricula in collaboration with students, teachers, parents and program partners. A.S.A.P. goals are:
To provide safe, supervised, structured programming for youth after school
To prevent delinquency and reduce crime committed by/against juveniles
To improve participants' school performance, conduct, and attendance
To encourage the ongoing involvement of parents and the community in youth programs
To motivate youth to develop citizenship and good health habits
To build positive partnerships to create fun, affordable, quality after-school programming for youth
HOW TO APPLY
The Request for Proposal (RFP) for the upcoming 2022 After-School Achievement Program will be released in the Fall of 2021. To be considered for funding, interested applicants must attend at least one mandatory application workshop, and meet the minimum requirements of the program.
All applicants/vendors must be a registered vendor with the City of Houston Strategic Procurement Division prior to submitting a ASAP application to conduct business with the City. The link to apply is http://purchasing.houstontx.gov/index.shtml.