Houston Parks and Recreation Department
Founders Memorial Cemetery

Founders Memorial Cemetery, located at 1217 West Dallas at Valentine Street, was dedicated by the city as a memorial park in 1836.A visit to this site in downtown Houston takes you back to a distant time. Two acres of tidy tranquility exist within its fence, and a stroll under the trees reveals vestiges of lives lived in the Nineteenth and early Twentieth Centuries. Once rundown and almost forgotten, the cemetery has been maintained by the Houston Parks and Recreation Department since 1947.
Founders Memorial Cemetery is the final resting place for members of some of Houston's first families. John Kirby Allen, who founded Houston with his brother Augustus, was buried there upon his death from congestive fever in 1838. George Allen, their brother, was also buried there in 1854. Augustus Allen was buried in his native Brooklyn, New York.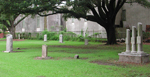 Veterans of the Texas Revolution were interred there, many of whose gravestones memorialize them for having been at the Battle of San Jacinto, famous, of course, for being the victory that freed Texas from Mexico. The 1936 centennial of the battle was observed at Founders Memorial Cemetery by the placement of stones commemorating some veterans whose original grave markers (and the precise locations of their graves) had been lost to time.
Present-day visitors will also see the graves of officials of the Republic of Texas and Civil War veterans, as well as mothers, fathers, and children who lived their lives in Houston during its early days. Some were undoubtedly the victims of yellow fever and other tropical diseases we no longer dread. Unfortunately, many still remain unmarked.

Adjacent to the cemetery is Beth Israel Cemetery, the first Jewish burial ground in Texas. It was founded in 1844 and features many beautiful headstones. An artistic highlight is the 1935 Art Deco mausoleum designed by, and housing the mortal remains of, Joseph Finger, the architect responsible for Houston City Hall and many other local landmarks of the first half of the Twentieth Century. Some of Houston's most prominent families are represented by graves in the Beth Israel cemetery. A historic tour of the downtown area would not be complete without looking in on these serene memorial parks.
The neighborhood surrounding them is historic for other reasons. Slaves liberated by the Emancipation Proclamation founded Freedmen's Town on the outskirts of Houston and it grew up around the cemeteries. It was home to prominent local African-American families, and in those days when hotels were off-limits to them, world-class black artists, educators, and musicians traveling to Houston stayed as guests in their homes.
Freedmen's Town came to be known as the Harlem of the South. The city's African-American families spread out into other neighborhoods over time, and, with the eventual abolition of segregation, were free to live wherever they wished. Freedmen's Town remained an anachronistic reminder of an earlier century as the skyscrapers of downtown encroached upon it. Now, despite efforts to protect its appearance and demographic integrity, some areas of it are succumbing to financial pressure due to proximity to downtown and are being redeveloped for new housing, resulting in an eclectic mix of architecture and population.