>
Police
>
POLICE Department
Auto Theft Division - Texas Automobile Theft Prevention Authority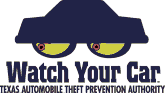 for more information, call 1-800-CAR-WATCH
The Houston Police Department, Auto Theft Division, is the co-ordinating agency within the City of Houston for the crime prevention programs implemented by the Texas Automobile TheftAuthority. To participate in these programs contact any Command Station, sub-station or neighborhood store front facility. Ask for the H.E.A.T. representative. For presentations to a civic club, church congregation or other groups, contact the Auto Theft Division at (713) 308-3500 and ask to speak to the program coordinator.
Texas Action Council on Theft
T.A.C.T.
is a non-profit organization of insurance companies, working with law enforcement and concerned citizens by sponsoring a program that provides anti-theft security labels for your personal property, including component parts for your vehicle. The labels are enscribed with your vehicle identification number and your Texas Operator's License number. After the labels have been applied for several days, it imprints an invisible image on the vehicle part. Thereafter, even if the labels are removed law enforcement officials can still identify your parts or property. The cost is approximately $8.40 per set of 10 labels. To participate, contact the H.E.A.T. representative at any Command Station, Substation or Store Front. You can also contact the program coordinator by calling the Auto Theft Division main phone number between 8:00 am and 5:00 pm. After normal business hours, leave your name and daytime phone number and the program coordinator will contact you.