Houston Police Department
Suspect Arrested, Charged in Fatal Shooting of Two People at 5606 Kenilwood

April 7, 2011 - Charges have been filed against a suspect in the fatal shooting of a man and woman found at 5606 Kenilwood about 5:05 a.m. on Feb. 24.

Robert Luches Parish (b/m, DOB: 2-1-74) is charged with capital murder in the 178th State District Court. A photo of Parish is attached to this news release.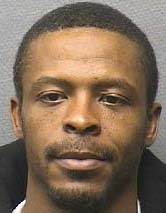 The victims, identified as Beverly Jean Parish, 42, and Curtis Llewellyn Wyatt, 46, both of the above address, were pronounced dead at the scene.

A third victim, Erica Morgan, 38, was also shot and transported to an area hospital for treatment.

HPD Homicide Division Sergeant T.F. Hanslik and Senior Police Officer R.A. Swainson reported:

Investigators were told the three victims were shot inside a residence at the above location sometime between 3 and 4 a.m. One victim, Ms. Morgan, was able to leave the scene and tell another individual the identity of the person who shot her and where it occurred. The individual arranged to have Morgan transported to a hospital and went to check on the two other victims inside the home, where they were found deceased. The shooter had fled the scene.

Further investigation identified the nephew of Beverly Parish, Robert Luches Parish, as the suspect in this case and on Feb. 26 he was arrested and charged with felon in possession of a weapon. Parish was later positively identified as the shooter and on Tuesday (April 5) the charge was upgraded to capital murder.

Update: KJS/VHS 4-6-11
JFC/VHS 2-25-11
Inc #023753411

For additional information, please contact the HPD Public Affairs Division at 713-308-3200.