Houston Police Department
Update: Suspects Arrested, Charged in Fatal Shooting at 5699 Beechnut

April 8, 2011 - Charges have been filed against three suspects in the fatal shooting of a man at 5699 Beechnut about 6:20 p.m. on December 31, 2010.

Edgar Ivan Padron (H/m, DOB: 10-21-79), Jose Adolpho Castillo (H/m, DOB: 3-28-81) and Mark Antonio Deleon (H/m, DOB: 10-30-78) are all charged with capital murder in the 228th State District Court. Photos of Padron, Castillo and Deleon are attached to this news release.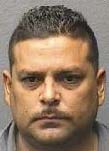 HPD investigators are currently following leads involving a possible fourth suspect.

They are accused in the killing of Saturnino Argueta, 57, of Houston, who suffered a gunshot wound and was transported to Ben Taub General Hospital where he was pronounced dead.

HPD Homicide Division Sergeant R.J. Blain and Senior Police Officer J.F. Robles reported:

Three male suspects entered the convenience store at the above address and shot and robbed Mr. Argueta, a customer, while robbing the store.

Surveillance video shows the suspects arrived in a white two-toned Ford F-250 pickup truck with a front brush guard. The driver of the vehicle remained inside the truck while the three other suspects entered the convenience store.

No one else was injured in the robbery.

Tips to Crime Stoppers led to the identification of four possible suspects involved in this case. Suspects Padron and Castillo were arrested without incident last Thursday (March 31) and Friday (April 1), respectively. Following a standoff with HPD SWAT officers at 10615 Beechnet on Thursday (April 7), Deleon surrendered peacefully.

Update: KJS/JFC 4-8-11
KJS/JFC 1-4-11
Inc. #181795510

For additional information, please contact the HPD Public Affairs Division at 713-308-3200.