Houston Police Department
Update: Suspect Arrested, Charged in Baby's Death at 4415 South Shaver

April 11, 2011 - Charges have been filed against a female suspect arrested in the death of an infant girl at 4415 South Shaver about 10:45 a.m. on December 28. 2010.

Angelica Huerta Clark (H/f, DOB: 8-28-89) is charged with murder in the 179th State District Court. A photo of Clark is attached to this news release.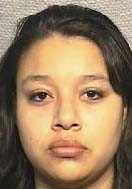 HPD Homicide Division Sergeant G. Gonzales and Officer R. Olive reported:
A maintenance worker at the Windshire Apartments discovered the newborn baby girl in a dumpster as he was taking the trash from one dumpster to another. Police and HFD emergency personnel were then called to the scene.
The baby girl suffered no apparent wounds and was pronounced dead at the scene. An autopsy by the Harris County Institute of Forensic Sciences determined the baby girl was born alive and died of asphyxiation and exposure.
Further investigation identified Clark as the mother of the newborn and last Friday (April 8) she was arrested and charged.
Update: KJS/JFC 4-11-11
VHS/KJS 12-29-10
Inc. #180313110

For additional information, please contact the HPD Public Affairs Division at 713-308-3200.