Houston Police Department
Suspect Arrested, Charged in Fatal Shooting at 6425 Bankside

April 13, 2011 - Charges have been filed against a suspect arrested in the fatal shooting of one juvenile male and wounding of two other people at 6425 Bankside #1094 about 1:40 a.m. today (April 13).

The suspect, Gboweh Dickson George (b/m, DOB: 7-4-78), is charged with murder in the 176th State District Court. He is accused in the killing of Rodney Carey Palmer, 11, and the wounding of a nine-year-old boy and a 19-year-old woman. The boy and woman were transported to Memorial Hermann Hospital for treatment of non life-threatening injuries.

A photo of suspect George is attached to this news release.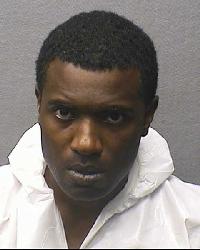 HPD Homicide Division Sergeant J.M. De La Cruz and Senior Police Officer X.E. Avila reported:
Patrol officers responded to a shooting in-progress call in an apartment at the above location and discovered three people had sustained gunshot wounds. One of them, Rodney Palmer, was pronounced dead at the scene. Paramedics transported another boy and adult female to the hospital. The woman was treated and released from the hospital. The boys were brothers and the woman is reported to be a close family friend.
Investigators learned the shooting was a result of an earlier dispute regarding a possible burglary of George's vehicle at the apartment complex.
JFC/JKS 4-13-11
Inc #046382711

For additional information, please contact the HPD Public Affairs Division at 713-308-3200.