Houston Police Department
Investigation into Fatal Stabbing at 2505 Broadway

April 18, 2011 - Houston police are investigating the fatal stabbing of a female found at 2505 Broadway about 11:45 p.m. on Sunday (April 17) and asking for the public's assistance in identifying the victim.

The victim is only described as a Hispanic female. She has a distinctive ring and tattoo on separate fingers of her left hand. A photo of them is attached to this news release.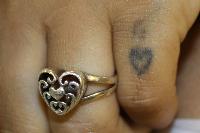 HPD Homicide Division Sergeants E. Cisneros and C. Howard reported:
A citizen called police to report a person down at the Broadway Park Apartments at the above address. Officers arrived and discovered a female with multiple stab wounds to her body. Paramedics transported the female to Ben Taub General Hospital where she was pronounced dead.
Anyone with information in this case or on the female's identity is urged to contact the HPD Homicide Division at 713-308-3600 or Crime Stoppers at 713-222-TIPS.
JFC/VHS 4-18-11
Inc #048771411

For additional information, please contact the HPD Public Affairs Division at 713-308-3200.