Houston Police Department
Surveillance VIdeo in Robbery Investigation at 9710 Beechnut
August 16, 2012 - Houston police are asking for the public's help in identifying a suspect wanted in the robbery of a convenience store at 9710 Beechnut about 1:15 a.m. on July 26.
The suspect is described only as a Hispanic male, 26 to 28 years of age, about 5 feet 8 inches tall and weighing 170 to 180 pounds. He was wearing a blue bandana and armed with a handgun.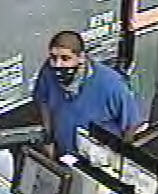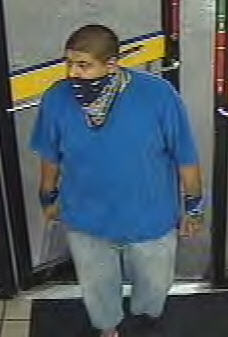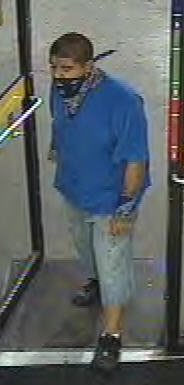 Surveillance photos of the suspect are attached to this news release. Surveillance video of the incident can be viewed on the HPD You Tube channel at
https://www.youtube.com/watch?v=R5u4opnoduA&feature=plcp
The suspect entered the Valero convenience store at the above address and pretended to shop while waiting for customers to leave. The suspect then approached the counter, pointed a gun at the employee and demanded money from the cash register. The employee complied and gave the suspect the money from the register. The suspect then fled on foot northbound on Corporate Drive.
Anyone with information in this case or on the identity of the wanted suspect is urged to contact the HPD Robbery Division at 713-308-0700 or Crime Stoppers at 713-222-TIPS.
VHS/JFC 8-16-12
Inc. #094398412
For additional information, please contact the HPD Public Affairs Division at 713-308-3200.