Houston Police Department
Suspect Arrested, Charged in Incident at 4600 Laureldale
August 20, 2012 - Charges have been filed against a suspect arrested for firing shots at a Harris County Precinct Five Deputy Constable at 4600 Laureldale about 8:30 a.m. last Friday (Aug. 17).
The suspect, Reynaldo Jose Luna (H/m, DOB: 6-6-92), is charged with aggravated assault against a public servant in the 228th State District Court. A photo of Luna is attached to this release.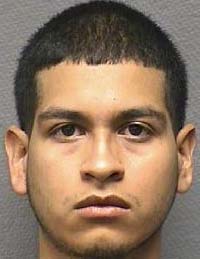 Precinct Five Deputy Constable C. Smith, who discharged his duty weapon, was not injured in this incident.
HPD Homicide Division Sergeant K. Tolls and Senior Police Officer R. Cervantes reported:
Deputy Constable Smith attempted to conduct a traffic stop on Luna, who was driving a red Ford pickup truck in the 4600 block of Laurendale. When Luna pulled over, he exited the vehicle and approached the deputy's vehicle with a gun drawn and immediately began firing at the deputy. Deputy Smith's patrol vehicle was struck multiple times and, in fear of his life, he discharged his duty weapon. Luna then fled in his truck at a high rate of speed. Deputy Smith pursued Luna and as Luna fled, he stuck his gun out of the truck's window and attempted to shoot again at Deputy Smith. The deputy continued to follow Luna and saw him exit his vehicle at Kempwood and Teague and then run across a large drainage ditch. Luna then fled into a retirement facility nearby where he attempted to hide in a cafeteria bathroom. He was taken into custody without further incident and his gun was recovered.
As is customary when a law enforcement officer discharges a weapon in the city limits, the incident is being investigated by the HPD Homicide Division.
KJS/JFC 8-17-12
Inc. #104442912
For additional information, please contact the HPD Public Affairs Division at 713-308-3200.