Houston Police Department
Suspect Arrested, Charged in Fatal Shooting at 1501 Big Bend Drive
August 20, 2012 - Charges have been filed against a suspect arrested in the fatal shooting of a man at 1501 Big Bend Drive #49 about 7:40 p.m. on Saturday (Aug. 18).
Dedra Jackson (b/f, DOB: 2-6-66) is charged with murder in the 209th State District Court. She is accused in the killing of her husband, Nathaniel Jackson, 44, of the above address, who was pronounced dead at the scene.
A photo of suspect Jackson is attached to this news release.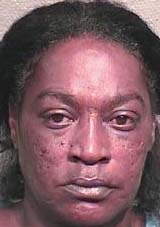 HPD Homicide Division Sergeant O. Chandler and Officer J. Johnston reported:
Dedra Jackson had an altercation with her 22-year-old daughter, which then escalated into a physical confrontation. Mr. Jackson then intervened and was shot by the suspect.
Dedra Jackson was taken into custody a short time later and charged in the case.
JKS/JFC 8-20-12
Inc. #105157912
For additional information, please contact the HPD Public Affairs Division at 713-308-3200.