Houston Police Department
Suspect Arrested, Charged in Incident at 6000 Black Maple
August 24, 2012 - Charges have been filed against a suspect who fired shots at a Houston police officer in the 6000 block of Black Maple about 10:30 p.m. on Tuesday (Aug. 21).
The suspect, Joshua Edward Williams (b/m, DOB: 12-22-88), is charged with aggravated assault against a police officer in the 262nd State District Court. Williams suffered a non life-threatening gunshot wound and was transported to Ben Taub General Hospital.
A photo of suspect Williams is attached to this news release.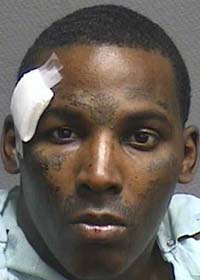 Officer M. P. Enriquez, who discharged his duty weapon, was not injured in the incident. Officer Enriquez, sworn in as an officer in November 2007, is assigned to the North Patrol Division.
HPD Homicide Division Sergeant K. Tolls and Senior Police Officer R. Cervantes reported:
HPD patrol officers responded to a burglary in-progress call and saw a speeding vehicle coming from the vicinity of the call. Officers then initiated a brief pursuit. As the vehicle stopped in the 5900 block of Black Maple, three male suspects immediately exited the vehicle and fled on foot. Officers exited their patrol vehicle and, as they began to purse the suspects on foot, the driver of the suspects' vehicle intentionally drove toward one of the officers and struck him. The officer was knocked onto the hood of the vehicle and then to the ground. The vehicle then fled the area.
As Officer Enriquez pursued one of the suspects (Williams) on foot, the suspect produced a pistol and fired several shots at him. Officer Enriquez took cover and gave repeated verbal commands for the suspect to drop his weapon. Williams ignored the verbal commands and continued to fire shots at Officer Henriquez. Fearing for his life, Officer Enriquez discharged his duty weapon and struck the suspect in the leg. Williams continued to be combative, but was eventually taken into custody and transported to the hospital.
As is customary in HPD officer-involved shootings in the city limits, this case is being investigated by the HPD Homicide and Internal Affairs Divisions, as well as the Harris County District Attorney's Office.
Anyone with information on the identities of the three wanted suspects is urged to contact the HPD Homicide Division at 713-308-3600 or Crime Stoppers at 713-222-TIPS.
VHS/JFC 8-24-12
Inc. #106545312
For additional information, please contact the HPD Public Affairs Division at 713-308-3200.