Houston Police Department
Mayor, Police Chief Announce March on Crime Initiative
March 1, 2012 - At a news briefing today (March 1), Mayor Annise Parker and Houston Police Chief Charles A. McClelland, Jr. announced the department's 28th annual "March on Crime/Lucha Contra El Crimen."

For the entire month of March, the Houston Police Department will highlight education initiatives to address property crimes such as burglaries of motor vehicles (BMVs) and burglaries of residences and businesses.

"HPD is a community policing department and this is just one of the initiatives that reinforces that," said Chief McClelland. "There is no more effective strategy than someone educating themselves and protecting themselves and their property," he added.

Crime prevention starts with citizens, said Mayor Parker.

"The Houston Police Department is not the frontline in preventing crime," said Mayor Parker. "The frontline in preventing crime is individuals doing the right thing. It is neighborhoods coming together to coordinate their activities, to communicate with each other and then work with the police," she added.

Community policing does not just happen in March, HPD officers work to educate community members all year long.

"We focus on crime every single day, every single month," said Chief McClelland. "But this is a good opportunity for us to reinforce all of these things."

Following today's media briefing, officers from HPD's North Patrol Division distributed theft reduction report cards on motorists' windshields at the Houston Community College at 1000 Pinemont. The officers gave students a passing or failing grade depending upon whether the offices found vehicle doors unlocked, windows opened or cracked and if valuables were left in plain view.

For more crime safety information, visit the HPD website at www.houstonpolice.org and click on the "Keep Houston Safe" logo.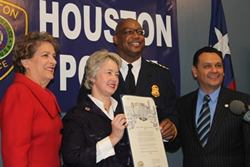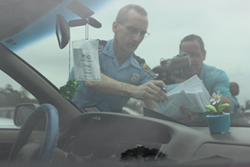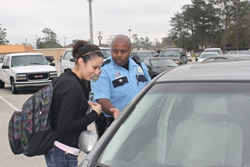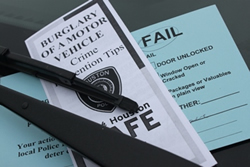 KJS/JKS 3-1-12
For additional information, please contact the HPD Public Affairs Division at 713-308-3200.