Houston Police Department
Suspect Arrested, Charged in Fatal Traffic Accident at 10200 Harwin
March 19, 2012 - Charges have been filed against a suspect arrested in a fatal traffic accident at 10200 Harwin about 10:55 p.m. on Saturday (March 17).

The suspect, Luis Hector Lopez (H/m, DOB: 10-21-84 ) is charged with intoxication manslaughter and intoxication assault in the 185th State District Court.

A photo of suspect Lopez is attached to this news release.

The victim, Jesus Ordonez, 7, of the above address, was transported to Memorial Hermann Southwest Hospital where he was pronounced dead. A second juvenile, Christopher Cruz, 4, suffered severe burns and was transported to Shriner's Hospital in Galveston in critical condition.

HPD Vehicular Crimes Division Sergeant D. Thomas and Officer J. Perrotte reported:

Lopez drove his Ford Crown Victoria into an apartment building at the above address and struck Ordonez and Cruz, residents of the apartment complex. The two boys were then transported to the hospital. Lopez, who was found to be intoxicated, was then taken into custody at the scene.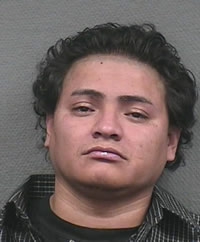 Luis Hector Lopez
VHS/JFC 3-19-12
Inc. #033906512-L
For additional information, please contact the HPD Public Affairs Division at 713-308-3200.