Houston Police Department
Suspect Arrested, Charged in Infant's Death at 2700 Woodland Park #201
March 19, 2012 - Charges have been filed against a suspect arrested in the death of an infant at 2700 Woodland Park #201 about 4 p.m. on March 8.

The suspect, Shawn Mayreis (w/m, DOB: 2-11-77), is charged with injury to a child causing serious bodily injury in the 184th State District Court. A photo of Mayreis is attached to this news release.

The baby girl, Azariah Mayreis, 2 months, suffered fractures to the skull and ribs and was transported to Texas Children's Hospital where she was pronounced dead on March 11.

HPD Homicide Division Sergeant M. McStravick, Senior Police Officer P. Vela and Juvenile Division Officers D. Fontenot and J. Arocha reported:

Baby Azariah was left in the care of her father, suspect Shawn Mayreis, the morning of March 8 when her mother left for work. Later, suspect Mayreis called both Azariah's mother and 911 when Azariah began to have problems breathing. The child was taken to the hospital where she was later pronounced dead.

Further investigation led to Shawn Mayreis being charged in baby Azariah's death and he was arrested last Friday (March 16) without incident.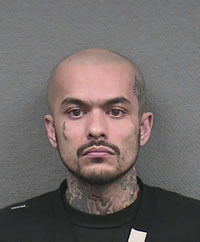 Shawn Mayreis
KJS/JFC 3-19-12
Inc. #029705912
For additional information, please contact the HPD Public Affairs Division at 713-308-3200.