Houston Police Department
HPD Puts Brakes on Airport BMV Suspects
March 21, 2012 - ***PLEASE NOTE TIME AND LOCATION OF AVAILABILITY*** Officers in the Houston Police Department's Airport Division have arrested three suspects believed responsible for several tire/rim thefts and burglaries of motor vehicles at Hobby Airport since January.

The suspects are identified as Temirlan Kantay (A/m, DOB: 4-7-94), Nurbol Tangatov (A/m, DOB: 5-21-89) and Yerzhigit Zhanbolatu Serikbay (A/m, DOB: 9-28-92). All three suspects are charged with engaging in organized ciminal activity in the 183rd State District Court.

Their mug shots are attached to this news release.

All three suspects are believed responsibile for the following incidents:


Jan. 23 - 2012 Cadillac CTS - stolen rims and tires
Feb. 1 - 2007 Lexus GS350 - stolen rims and tires
Feb. 19 - 2011 BMW M3 - stolen rims and tires
March 1 - 2011 BMW 535 - stolen rims and tires
On March 7, officers from the HPD Airport Division's Tactical Unit conducted an undercover investigation in a parking garage at Hobby Airport after receiving information that unknown suspects had stolen tires and rims from high-end vehicles. Further investigation developed suspect descriptions and a possible vehicle, a white Toyota Camry, being used in the thefts.
Later that evening, officers observed the suspects and followed them on different floors of the parking garage. Each time, the suspects pulled up next to a high-end vehicle, got out with a tire tool, but were scared off by traffic in the garage. All three suspects were then taken into custody without incident.
Each suspects admitted to his involvement in the thefts. Two sets of rims were subsequently recovered.
At 2 p.m. TODAY (Wednesday, March 21), investigators from the HPD Airport Division will be available to answer questions regarding this investigation in the first floor media briefing room at HPD Headquarters, 1200 Travis.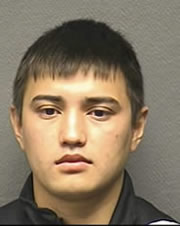 Nurbol Tangatov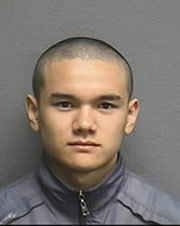 Yerzhigit Zhanbolatu Serikbay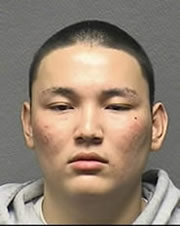 Temirlan Kantay
VHS/JFC 3-21-12
Inc. #029437912
For additional information, please contact the HPD Public Affairs Division at 713-308-3200.