Houston Police Department
Suspect Arrested, Charged in Fatal Shooting at 12611 S. Gessner
March 26, 2012 - Charges have been filed against a suspect in the fatal shooting of a woman at 12611 South Gessner about 1 a.m. on Sunday (March 25).

Tomas Santoyo Rodriguez (H/m, DOB: 2-15-71) is charged with murder in the 178th State District Court. A photo of Rodriguez is attached to this news release.

The victim, Emelia Oregon-Cruz, 27, of Fresno, Texas, suffered multiple gunshot wounds and was pronounced dead at the scene.

HPD Homicide Division Sergeant E. Cisneros and Officer J. French reported:

On Saturday (March 24), Rodriguez obtained information that his common-law wife, the victim, was going to meet her boyfriend at the above address. That night, Rodriguez drove to the above location and saw her vehicle parked. He then parked his van and waited for her to return. About 1 a.m. on Sunday (March 25), Ms. Oregon-Cruz returned to her vehicle. As she was approaching her car, Rodriguez forced Oregon-Cruz into his van at gunpoint and shot her. He then left her in his van, took her car, and fled the scene. That morning, Rodriguez turned himself in to the Pearland Police Department, which contacted the Houston Police Department to take custody of Rodriguez.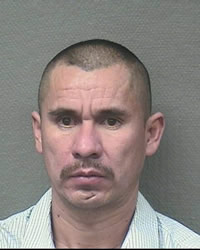 Tomas Santoyo Rodriguez
KJS/JFC 3-26-12 Inc. #037387212
For additional information, please contact the HPD Public Affairs Division at 713-308-3200.