Houston Police Department
Suspect Arrested, Charged in Missing Woman's Death
October 1, 2012 - Charges have been filed against a suspect arrested in the death of a woman last seen at 7222 Bellerieve on September 22.
The suspect, Mark Augustin Castellano (w/m, DOB: 12-18-74) is charged with murder in the 184th State District Court. He is charged in the death of Michelle Warner, 31, of the above address. A photo of suspect Castellano is attached to this news release.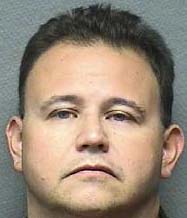 HPD Homicide Divison Sergeant B. Harris and Senior Police Officer M. Waters reported:
On September 25th, the family of Michelle Warner filed a missing persons report after not hearing from her for several days. According to family members, Ms. Warner disappeared after having an argument with her ex-boyfriend, Castellano. Castellano then left Houston with their 3-year-old son to visit relatives in Odessa, Texas.
Investigators remained in contact with Castellano and he agreed to fly back to Houston on Sunday (Sept. 30) to be interviewed. During the interview, he admitted to his role in Warner's death and leaving her body in the couple's apartment. Castellano stated he drove his son to Odessa, left him with relatives and returned to Houston to retrieve Warner's body. He then drove back to the Midland-Odessa area where he attempted to bury her body in an oilfield. After speaking with investigators in Houston, Castellano told authorities in Midland where Warner's body could be found. Odessa police and FBI agents located Ms. Warner's body and Castellano was subsequently charged with murder.
JKS/JFC 10-1-12
Inc. #122128212
For additional information, please contact the HPD Public Affairs Division at 713-308-3200.