Houston Police Department
Suspect Arrested, Charged in Fatal Traffic Accident at 9100 Richmond Avenue
October 1, 2012 - Charges have been filed against a suspect arrested in a fatal traffic accident at 9100 Richmond Avenue about 2:30 a.m. on Sunday (Sept. 30).
The suspect, Toccarra Victoria Dubose (b/f, DOB: 10-17-83), is charged with intoxication manslaughter in the 182nd State District Court. Her female passenger, Aresha Griffin, 21, was pronounced dead at the scene.
A photo of suspect Dubose is attached to this news release.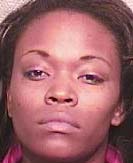 HPD Vehicular Crimes Division Sergeant D. Thomas and Officer K. Hines reported:
An HPD patrol vehicle was enroute to a call for service and attempting to make a right turn from the 9100 block of Richmond when Dubose's silver Ford Taurus struck the patrol vehicle. Dubose then lost control of her vehicle and struck a tree in the median. Ms. Griffin died at the scene. The officer was not injured in the accident.
JKS/JFC 10-1-12
Inc. #124196712-L
For additional information, please contact the HPD Public Affairs Division at 713-308-3200.