Houston Police Department
Suspect Arrested, Charged in Kidnapping at 1726 Ojeman
October 3, 2012 - Charges have been filed against a suspect arrested in the kidnapping of a woman and a child at 1726 Ojeman about 3 a.m. on Tuesday (Oct. 2).
The suspect, Joseph Anthony Vallejo (H/m, DOB: 11-27-90), is charged with aggravated assault with a deadly weapon and aggravated kidnapping in the 174th State District Court. A photo of suspect Vallejo is attached to this news release.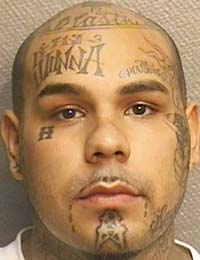 HPD Homicide Division Sergeant K. Tolls and Senior Police Officer R. Cervantes reported:
Vallejo went to the home of his ex-girlfriends's current boyfriend at the above address, held several family members at gunpoint inside the residence and demanded his ex-girlfriend and her 7 year-old son leave with him. Fearing for everyone's safety, the female agreed to leave with Vallejo.
After receiving a general radio broadcast for Vallejo's vehicle, a red Ford Expedition, patrol officers found the vehicle in the parking lot of the Western Inn at 1500 North Loop West (North Interstate Highway 610 West). Vallejo was then taken into custody without incident when he left his hotel room. The female, 27, and her child were unharmed.
VHS/JFC 10-3-12
Inc. #125034412
For additional information, please contact the HPD Public Affairs Division at 713-308-3200.