Houston Police Department
Sketch, Surveillance Video of Wanted Sexual Assault Suspects
October 11, 2012 - Investigators in the Houston Police Department's Special Crimes Division are asking for the public's help in identifying two suspects wanted in a sexual assault on September 23 in north Houston.
The suspects are described only as two Hispanic males. One suspect is in his early 40s, about 5 feet 9 inches tall and a medium build. He has dark brown hair, slicked back and tucked behind the ears, brown eyes and black ink tattoos on both arms. He also has one tattoo around one wrist.
The other suspect is in his 30s, about 5 feet 10 inches tall and heavy set. He has a bald head, dark-rimmed glasses, brown eyes and a tattoo on his upper right arm. He also has a tattoo across his chest, with a curved shaped in Olde English writing. A composite sketch of this suspect is attached to this news release.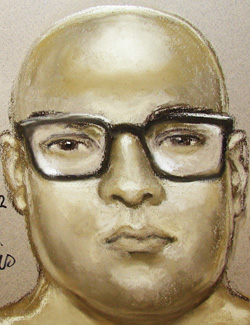 Surveillance video of both suspects and their vehicle, a dark colored, four-door, possibly 1997 Ford Taurus station wagon, can be viewed on the HPD You Tube channel at
https://www.youtube.com/houstonpolicedept
.
The female victim, 27, was walking home from a friend's house when a dark colored vehicle drove by her and stopped. One of the male suspects then offered her a ride to the bus stop and she got into the vehicle. At some point, both suspects drove to the 2100 block of Harrington and sexually assaulted the victim. She was then released from the vehicle and the suspects fled the scene northbound on Semmes Street.
Anyone with information in this case is urged to contact the HPD Special Crimes Division at 713-308-1100 or Crime Stoppers at 713-222-TIPS.
VHS/JFC 10-11-12
Inc. #121060012
For additional information, please contact the HPD Public Affairs Division at 713-308-3200.