Houston Police Department
Suspect Charged, Wanted in Fatal Stabbing at 2200 Wirt Road
October 12, 2012 - Charges have been filed against a suspect wanted in the fatal stabbing of a man at 2200 Wirt Road about 9:30 p.m. on Wednesday (Oct. 10).
The suspect, Alejandro Figueroa (H/m, DOB: 4-24-77), is charged with murder in the 351st State District Court. He is accused in the killing of his nephew, Fernando Figueroa, 19, of the above address. Fernando Figueroa suffered stab wounds and was transported to Memorial Hermann Northwest Hospital where he died.
A photo of Alejandro Figueroa from 2009 is attached to this news release. He is believed to currently have short and partially gray hair.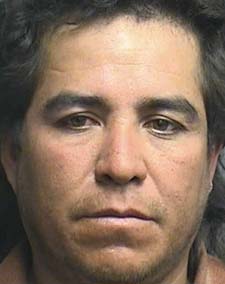 HPD Homicide Division Sergeants R. Blain and O. Chandler reported:
Witnesses stated Fernando Figueroa was stabbed by his uncle, Alejandro FIgueroa, in the parking lot of the apartment complex at the above address. Alejandro fled the scene prior to the arrival of police officers. Fernando Figueroa was transported to the hospital where he was pronounced dead.
Alejandro Figueroa is believed to have fled in his black, 2002 Ford Escape with Texas license plates BE09626.
Anyone with information on the whereabouts of Alejandro Figueroa is urged to contact the HPD Homicide Division at 713-308-3600 or Crime Stoppers at 713-222-TIPS.
Update: VHS/JFC 10-12-12
JFC/JKS 10-11-12
Inc #128898712
For additional information, please contact the HPD Public Affairs Division at 713-308-3200.