Houston Police Department
Suspect Arrested, Charged in Fatal Traffic Accident at 11200 Northwest Freeway
October 15, 2012 - Charges have been filed against a suspect arrested in a fatal traffic accident at 11200 Northwest Freeway (U.S. Highway 290) about 1:45 a.m. on Saturday (Oct. 13).

The suspect, Aaron Chavira (H/m, DOB: 9-25-79), is charged with driving while intoxicated in Harris County Criminal Court # 11. He is accused for his role in the deaths of two men, 64 and 45 years of age. The identities of the men are pending verification by the Harris County Institute of Forensic Sciences.

A photo of suspect Chavira is attached to this news release.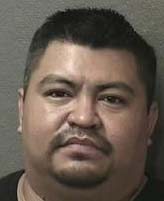 HPD Vehicular Crimes Division Sergeant C. Nickerson and Officer K. Heaverlo reported:
A blue Chevrolet Silverado was traveling eastbound on the Northwest Freeway when a black Ford Explorer ran into the back of the truck. The driver and front passenger (64 year old man) of the Silverado exited the truck to exchange information with the driver of the Explorer. The Silverado occupants believed the driver of the Explorer was intoxicated, so the driver of the Silverado got back into the truck to call police. As he was on the telephone, a black Lincoln Navigator struck the two vehicles involved in the first accident. The 64-year-old male passenger from the Silverado and the 45-year-old male driver of the Explorer, who were outside the vehicles, were struck during the second accident and died at the scene. Chavira, the driver of the Navigator, showed signs of intoxication and was taken into custody. He was subsequently charged.
The investigation is continuing.
JFC/VHS 10-15-12
Inc #129907112-T
For additional information, please contact the HPD Public Affairs Division at 713-308-3200.