Houston Police Department
Update: Suspect Arrested, Charged in Fatal Stabbing at 4702 Mcewen
October 17, 2012 - Houston police have arrested a suspect charged in the fatal stabbing of a man at 4702 Mcewen Street about 9:30 p.m. on Sunday (Oct. 14).
Saul Gutierrez (H/m, DOB: 2/1/95) is charged with murder in the 339th State District Court. A photo of suspect Gutierrez is attached to this news release.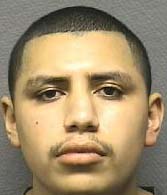 Gutierrez is accused of stabbing a male victim who was transported to Ben Taub General Hospital where he later died. His identity is pending notification to family members by the Harris County Institute of Forensic Sciences.
HPD Homicide Division Sergeant Z. Becker, Senior Police Officer M. Khan and Officer D. Fontenot reported:
HPD patrol officers reported to an assault in-progress call in the 4700 block of Mcewen. Officers arrived and learned a large fight had broken out between two groups of neighbors. Further investigation determined members of both groups had been drinking and got into a physical fight after exhanging words. At some point during the fight, the victim was stabbed. Family members then transported the victim to the hospital where he died.
Further investigation identified Gutierrez as a suspect in this case. On Tuesday (Oct. 16), he was arrested without incident.
Update: JKS/JFC 10-17-12
VHS/JFC 10-15-12
Inc. #130707312
For additional information, please contact the HPD Public Affairs Division at 713-308-3200.