Houston Police Department
Composite Sketch of Suspect Sought in Home Invasion
October 18, 2012 - Investigators in the Houston Police Department's Burglary and Theft Division have released a composite sketch of a suspect wanted in a home invasion in the 3500 block of Vintage about 8:35 a.m. on Oct. 6.
The suspect is described only as a black male in his late 20s, about 5 feet 11 inches tall and a thin build. A composite sketch of the suspect is attached to this news release.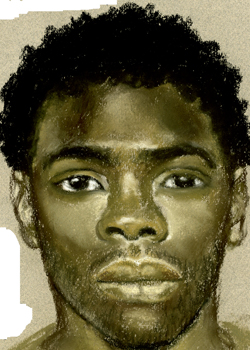 A juvenile female, 13, was at her residence with her little brothers when the suspect knocked on the front door. The girl did not open the door so the suspect went to the back door of the residence and again knocked on the door. When no one responded, the suspect attempted to knock down the back door and was unsuccessful.
The suspect went back to the front door, slammed into it repeatedly until he forced it open and entered the residence. Fearing for her and her brothers' lives, the girl retrieved a butcher knife and, when the suspect grabbed her by the arm, the girl raised the knife to defend herself. The suspect then fled the scene on foot, northbound on West Huntington. He crossed a bridge over the bayou and continued eastbound.
Anyone with information in this case is urged to contact the HPD Burglary and Theft Division at 713-308-0900 or Crime Stoppers at 713-222-TIPS.
VHS/JFC 10-18-12
Inc. #126918412
For additional information, please contact the HPD Public Affairs Division at 713-308-3200.