Houston Police Department
Update: Suspect Charged in Fatal Shooting at 6521 Jackwood
October 24, 2012 - Charges have been filed against a suspect arrested in the fatal shooting of a man at 6521 Jackwood about 2:25 a.m. today.

The suspect, Sonia Whitford (H/f, DOB: 11-28-64), is charged with manslaughter in the 337th State District Court in the death of her husband, Troy Whitford, 43. A photo of suspect Whitford is attached to this news release.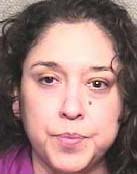 HPD Homicide Division Sergeant C. Elliott and Senior Police Officer M. Condon reported:
Sonia Whitford stated she and her husband had been drinking when her husband, Troy,began playing with his shotgun. She said Mr. Whitford told her the gun was not loaded and then handed it to her. At that time, she said she pointed the gun at her husband's head and pulled the trigger. The gun was loaded and discharged, striking and killing Troy Whitford. The couple's 16-year-old son was at home, but was not injured. He was referred to and transported to Harris County Children's Protective Services authorities.
JFC/VHS 10-24-12
Inc #134772512
For additional information, please contact the HPD Public Affairs Division at 713-308-3200.