Houston Police Department
2nd UPDATE: Composite Sketch of Suspect in Fatal Shooting at 12400 Greenspoint
July 24, 2014 - Houston police have released a composite sketch of a suspect wanted in the fatal shooting of a man at 12400 Greenspoint about 12:20 a.m. last Friday (July 18).

The suspect is described only as a black male in his late teens to early 20s and had a wide, flat silver necklace. A composite skitech of the suspect is attached to this news release.

The victim, Khalil Brown, 17, of Houston, was pronounced dead at the scene.

HPD Homicide Division Sergeant J. Parker and Senior Police Officer S. Straughter reported:

HPD patrol officers responded to a reported shooting call at the above address. Upon arrival, they discovered Mr. Brown lying in the parking lot.

Further investigation determined a possible suspect was seen in the area, going toward the Premier Theater. Investigators also learned individuals were in the parking lot, near the theater, when the shooting occurred.

Any witnesses who left at the time of the shooting are asked to contact the HPD Homicide Division at 713-308-3600. Anyone with information about the case or the identity of the possible suspect(s) is urged to contact the Homicide Division or Crime Stoppers at 713-222-TIPS.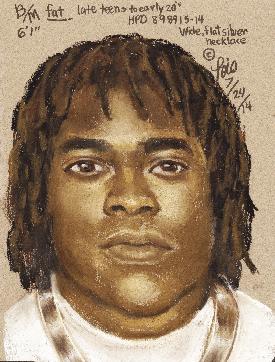 2nd Update: JKS/JFC 7-24-14
Update: KJS/JFC 7-23-14
KJS/JFC 7-18-14
Inc. #089891514
For additional information, please contact the HPD Public Affairs Division at 713-308-3200.