Houston Police Department
Surveillance Video, Photos of Suspects Wanted in Robbery at 4868 Beechnut
July 25, 2014 - Houston police have released surveillance video and photos of three suspects wanted in an armed robbery of a business at 4868 Beechnut about 1:35 p.m. on July 17.

The suspects are described only as three black males believed to be 25 to 30 years old. All had their faces covered in the incident. Surveillance video of the suspects is posted on the HPD YouTube channel at https://www.youtube.com/watch?v=TFlXjyk78LA. Surveillance photos are attached to this news release.

HPD Robbery Division Senior Police Officer A. Harrell reported:

Three males armed with guns exited a black Chevrolet Impala, entered the Sprint store at the above address and demanded money from employees. One suspect struck an employee with a gun. The suspects fled the scene with money and a number of cell phones.

It is believed the same suspects committed a similar robbery at another Sprint store at 2802 North Shepherd Drive about 9:25 a.m. on July 9, as well as other similar robberies in the Houston area.

Anyone with information on the identity of one or more of the suspects is urged to contact the HPD Robbery Division at 713-308-0700 or Crime Stoppers at 713-222-TIPS.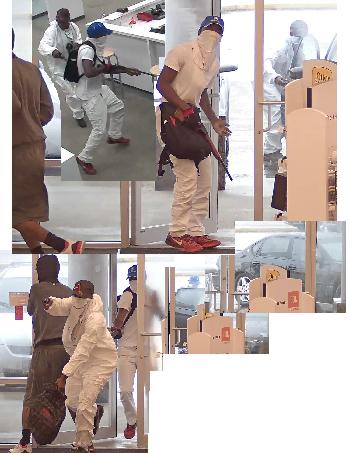 JFC/VHS 7-25-14
Inc #089646614
For additional information, please contact the HPD Public Affairs Division at 713-308-3200.