Houston Police Department
Composite Sketch of Wanted Suspect in Robbery Investigation
July 29, 2014 - Houston police are asking for the public's help in locating two suspects wanted in an aggravated robbery at 10200 West Bellfort about 5:45 a.m. on June 9.

The suspects are described as two Hispanic males. One is in his early to mid 20s, about 5 feet 7 inches tall. He has black, spiky hair with a mustache and goatee. He wore a black T-shirt, dark blue jeans, a black rosary around his neck and had a tattoo on his neck, possibly reading "Trejo" or "Hecho en Mexico." He was also believed to be carrying a gun or a pistol-shaped lighter. A composite sketch of this suspect is attached to this news release.

The other suspect is about 18 years old, about 5 feet 6 inches tall, about 160 pounds, with a light complexion. He had facial hair, in a goatee-style and spiky black hair. He wore a red hooded sweater and khaki pants. He also had tattoos, possibly stars, on his neck.

The victim was walking in the 10200 of West Bellfort when he was approached by both suspects. The first suspect spoke to the victim in Spanish and then English. The suspect then produced a pistol, demanded the victim's money and cell phone, and then struck the victim in the head with the pistol. The second suspect threw rocks at the victim, punched and kicked him, and stole a pendant from his necklace. Both suspects fled the scene.

Anyone with information in this case or on the identity of the suspect in the sketch is urged to contact the HPD Robbery Division at 713-308-0700 or Crime Stoppers at 713-222-TIPS.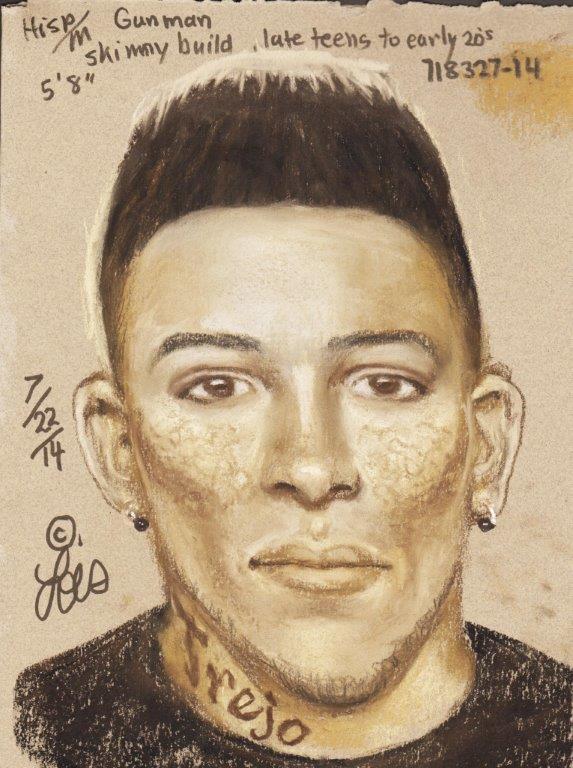 VHS/JFC 7-29-14
Inc. #071832714
For additional information, please contact the HPD Public Affairs Division at 713-308-3200.