Houston Police Department
Update: Suspects Arrested, Charged in Male Found Deceased at 9700 North Green River
April 1, 2015 - Charges have been filed against four suspects arrested in the death of a male whose remains were found at 9700 North Green River on June 17, 2013.
The suspects, Aaron Junior Sandoval (H/m, 21), Luis Madrid (H/m, 24), Rafael Garza (H/m, 28) and Martin Duran, Jr. (H/m, 20), face various charges. Sandoval was charged with murder in the 337th State District Court on Tuesday (March 31). The other three suspects are charged with tampering with evidence (human corpse). Photos of the four suspects are attached to this news release.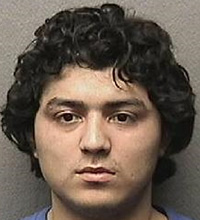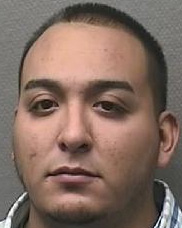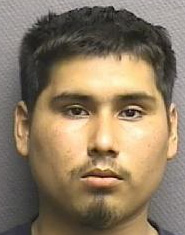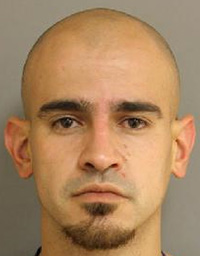 The suspects are charged for their roles in the death of William Luna Garcia, 28. An autopsy revealed he suffered blunt force trauma to the head and was beaten.
HPD Homicide Division Sergeants T.Richardson, R. Torres, R. Rodriguez and Officer M. Burrow reported:
About 4:15 p.m. on June 17, a passerby riding a four-wheeled all-terrain vehicle in the wooded area of Brock Park at the above address saw what appeared to be parts of a human protruding from a carpet secured with duct tape. The victim was later identified as Mr. Garcia. He was missing for 10 days before his body was found.
At the time, investigators had no known witnesses in the case.
Investigators learned the victim (Garcia) was involved in a lucrative robbery at the Gordon's Jewelry store in San Jacinto Mall in Baytown on April 29, 2013. Disputes arose between some of the participants in the robbery over the stolen jewelry, which ultimately led to Garcia's murder. Investigators determined he was killed inside a home in the 9200 block of Hillis Street and eventually taken to the wooded area in the park where he was found.
Further investigation revealed several suspects were involved in cleaning up the murder scene, dumping Garcia's body and disposing of his vehicle. Four suspects were identified.
Sandoval is charged with the murder, aggravated robbery for the jewelry store incident (filed by the Baytown Police Department), as well as aggravated assault on a public servant and theft of a firearm from his recent arrest. Madrid is charged with tampering with evidence (human corpse) and in the robbery at the Gordon's jewelry store. Garza and Duran are charged with tampering with evidence (human corpse). Sandoval, Madrid and Duran were arrested on separate dates in February and March. Garza was already in custody, charged in a separate incident in August 2014.
Update JFC/JKS 4-1-15
JFC/VHS 6-18-13
Inc #075175113
For additional information, please contact the HPD Public Affairs Division at 713-308-3200.