Houston Police Department
Update: Missing Person Located, Theft Investigation Ongoing
April 6, 2015 - Houston police say an elderly man last seen on March 2 has been located unharmed and another individual illegally using the man's bank card during that absence has been identified.
Investigators learned the missing man, Thermon Goins, 75, of Houston, has been in a nursing home in Pasadena since March 17, after spending nearly two weeks in St. Joseph Medical Center. Family members reported Mr. Goins was last seen at the Star of Hope Mission at 1811 Ruiz. A photo of Mr. Goins is attached to this news release.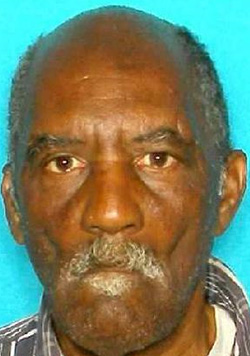 Further investigation revealed an unknown black male suspect was seen on surveillance video at a Chase Bank ATM drive-through at 5150 Fairmont Parkway about 11 a.m. on March 2 using Goins' bank card to make cash withdrawals from his account. Surveillance photos of the theft suspect and the vehicle he was driving were released on March 31. Investigators said there were withdrawals from several area banks using the same bank card.
The suspect in the surveillance photos was later identified and questioned, with no charges filed at this time. The theft investigation is continuing.
Update JFC/VHS 4-6-15
JFC/VHS 3-31-15
Inc #032741015
For additional information, please contact the HPD Public Affairs Division at 713-308-3200.