Houston Police Department
Surveillance Video in Robbery at 8615 Tidwell
April 28, 2015 - Houston police are asking for the public's help in locating a suspect wanted in a robbery at 8615 Tidwell about 10:55 a.m. on April 19.
The suspect is described only as a black male, about 6 feet tall, 180 pounds, with short hair. He was wearing blue shorts and a striped shirt. Surveillance video of the suspect can be viewed on the HPD YouTube channel at
https://youtu.be/2lHzAYqyLuA
. Surveillance photos of the suspect are attached to this news release.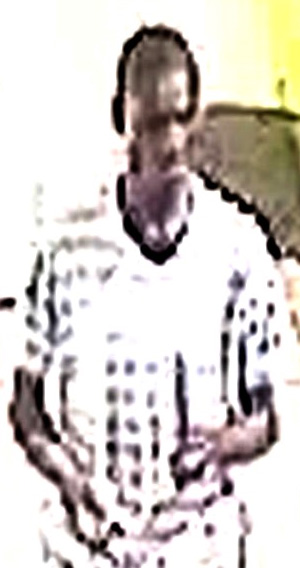 The male suspect approached two small children near their mother's vehicle in the parking lot at the above address. The suspect walked toward a two-year-old boy and forcibly took an iPad from him. As the suspect took the device, the boy was knocked to the ground and suffered minor injuries. The suspect fled on foot in an unknown direction.
Anyone with information in this case is urged to contact the HPD Robbery Division at 713-308-0700 or Crime Stoppers at 713-222-TIPS.
VHS/JFC 4-28-15
Inc. #049129815
For additional information, please contact the HPD Public Affairs Division at 713-308-3200.