Houston Police Department
Investigation into Houston Police Officer's Line of Duty Death at 900 North Kirkwood
May 18, 2015 - Houston police are investigating the line-of-duty death of an HPD officer at 900 North Kirkwood about 3 a.m. today (May 18).

Officer Richard K. Martin, 47, was assigned to the Westside Patrol Division. He was sworn in as an officer in November 2010. Officer Martin leaves behind a 22-year-old daughter and an 11-year-old son. A photo of Officer Martin is attached to this news release.

The suspect, 33, was transported to Memorial Hermann Hospital where he remains in critical condition with a self-inflicted gunshot wound.

HPD Homicide Division investigators reported:

Officers were en route to a report of an attempted burglary of an ATM at 14101 Northwest Freeway (U.S. Highway 290) when the suspect, driving a white U-Haul van in the area at a high rate of speed, made an illegal u-turn and then ran a red light. As officers began pursuing the van, the suspect discharged a weapon multiple times (out of the van) in the direction of the officers. Officers continued to pursue the suspect's vehicle until he reached the Katy Freeway service road at State Highway 6. There, the suspect approached the female driver of a brown Toyota at gunpoint and stole her vehicle. The female driver, 58, was transported to an area hospital with minor injuries.

The suspect continued to flee to Kirkwood. As the suspect approached North Kirkwood at Saint Mary's Lane, Officer Martin attempted to deploy spike strips across the roadway. During the deployment of the strips, the suspect struck Officer Martin and continued to flee. Officer Martin was pronounced dead at the scene.
The suspect then stopped at 7500 North Shepherd at West Little York. Officers on the scene reported hearing a gunshot from inside the vehicle. Officers set up a perimeter and then waited for the HPD Special Weapons and Tactics (SWAT) team to arrive. Upon arrival, SWAT officers then approached the vehicle and found the suspect had suffered a self-inflicted gunshot wound to the head. A shotgun and a handgun were recovered at the scene.
It appears the suspect is not connected to the robbery call on the Northwest Freeway. The U-Haul van he was driving was stolen.

The investigation is continuing.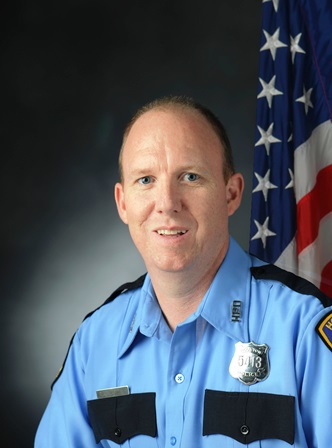 Officer Richard K. Martin
JKS/JFC 5-18-15
Inc. #063301915
For additional information, please contact the HPD Public Affairs Division at 713-308-3200.